| | | | | | |
| --- | --- | --- | --- | --- | --- |
| | 1919 | 1938 | 1960s | 1964 | 2014 |
| | | | | | |

Cremerie de Paris has a long history .... époque first Cremerie
The people that work in today's Cremerie de Paris (expo center for Very Beautiful Brands)
never had the chance to meet Coco Chanel in person ....
the borders of time have seperated us.
Coco Chanel died already 40 years ago, 1971, January 10.

Souvenirs of a friend of Chanel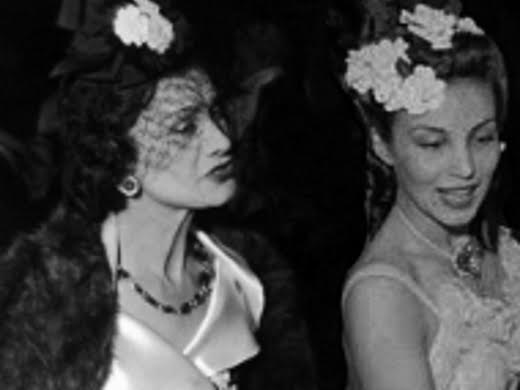 But in 1999 destiny has send a close friend of Coco Chanel,
to the Cremerie de Paris at the time it was an Internet Cafe.
The Lady was very unusual ...
she was already almost 100 years old (at the time we did not know her real age)
but she was full of life
and so beautiful everybody turned around whenever she arrived at the cafe.

She had heared about the "phenomenon Internet"
and she wanted to have a little idea about it.
... and of course she was very amused to tell "old people"
(20, 30, 40 years younger than her)
that she used to surf on the net ...

The name of the Lady was Aimée de Heeren,
once the "secret first Lady" of Brazil.
She had to leave her country in 1938
and she knew Coco Chanel since that time ...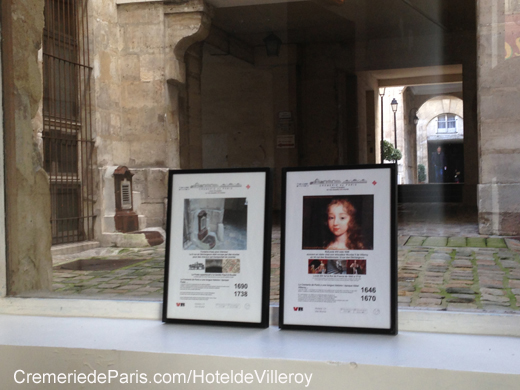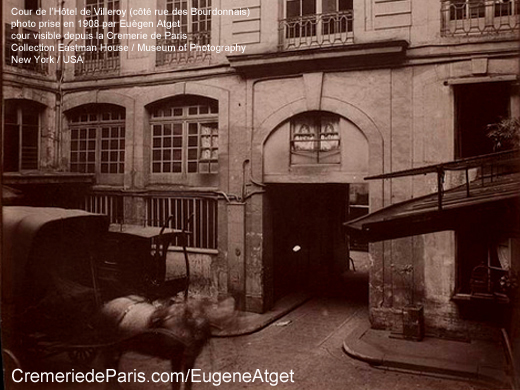 One day, after an internet lesson at the Cybercafe,
the editor of this article
showed the beautiful courtyard of our Hotel de Villeroy
to Aimée de Heeren ...
but Aimée already knew it
she had been there ...
about 40 years before,
in the 1960s ....
She was accompanied by a woman that was very lonely
and that entered history
as one of the most famous fashion designers of all times.

Late evening walks around Paris
Aimée de Heeren enjoyed to go on long evening walks
around Paris and she was always
looking for a friend to keep company ...


Aimée de Heeren one day
around the year 2000
after taking an Internet Lesson in the Cremerie de Paris
(at the time an Internet Café), talking to the editor of this website:




" Oh I recognize this couryard ... how pretty it looks nowadays ....
I have been her already ... a long time ago with a friend,
you were not born yet at that time.

My friend died a long time ago,
she was very lonely and sometimes she accompanied me
for my evening walks.
We had a lot to talk about ...

Does the staircase with the number 5 still exist ?
Oh there it is ...
How beautiful it still is ...
This staircase would have such interesting stories to tell ...

This staircase always fascinated my friend,
you probably know
her name:
Coco Chanel.

By the way do you know
the meaning of the number "5"
forged in the stair railing ?
My friend always wanted to know the signification
as she had invented a perfume which was using the same number "5"
.... but there was nobody who could tell us ???
.... she was very supersticious at the number "5"
had something magical.
All we knew that this couryard must have been a legendary spot.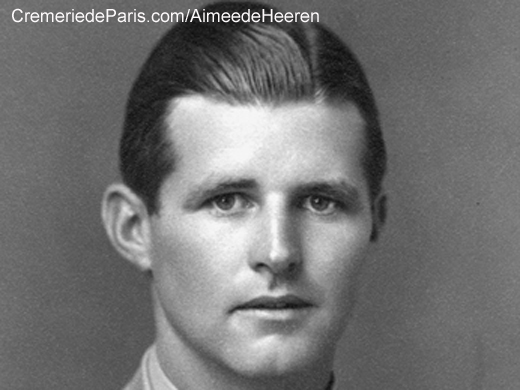 Did I tell you that Coco Chanel always gave me lots of samples
small bottles of her perfume Chanel N°5
and lots of custom jewellery,
she gave them to me so that I would distribute them in the United States and in Brazil.
This way my friend
Jackie Kennedy discovered her brand.
Her late brother in law Joseph was my boyfriend when I arrived in New York.
He was so georgeous, it's so sad he was killed during the war.


These samples were very conveniant for me,
I never needed to buy flowers or chocolates
when I was invited somewhere ...
People loved the perfume and the little jewels.

I even kept some of the jewels.
Do you remember the bracelet I was wearing last week ?
It was one of them ...
... they are so pretty.
I keep them as little treasures ... "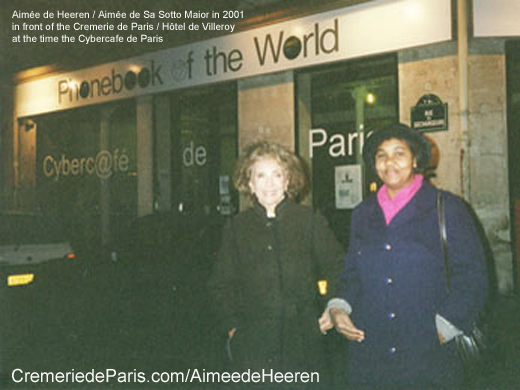 Aimée de Heeren in front of the Cremerie de Paris in 2001

Decades later Aimée de Heeren made the same kind of long evening walks
with the editor of this website ...
and there was a lot of time to tell all these fascinating stories about the past,
increadible stories related to many famous people of the 20th century
... Coco Chanel was part of them.

Very personal stories you cannot find in the official archives
of the Chanel fashion house
neither in the very well written biographies of Justine Picardie ....









Coco Chanel and Aimée de Heeren both lived around the place Vendôme:
Coco Chanel at the Hotel Ritz,
Aimee when in Paris at the Hotel Meurice,
(Aimée de Heeren lived between New York, Palm Beach, Biarritz et Paris ...
she came to Paris for the "saison" when there were a lot of parties and receptions,
usually in June to mid July
and end of September to end of November).

Aimée de Heeren enjoyed to walk in the evenings, for hours.
After a ball or a reception
her "haute couture" dress changed to something simple,
et hop !
...there she was for a 2 to 3 hour evening walk.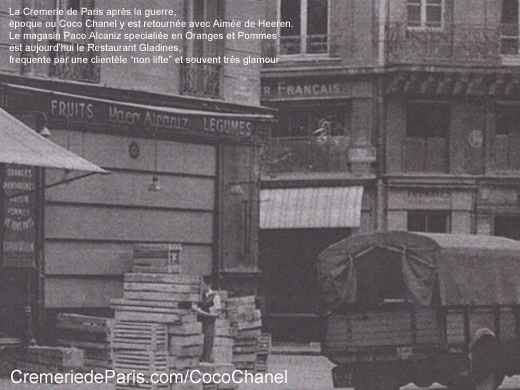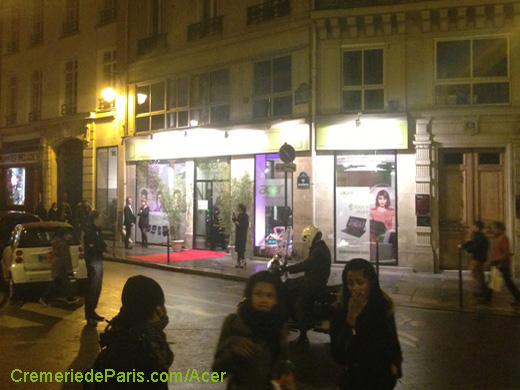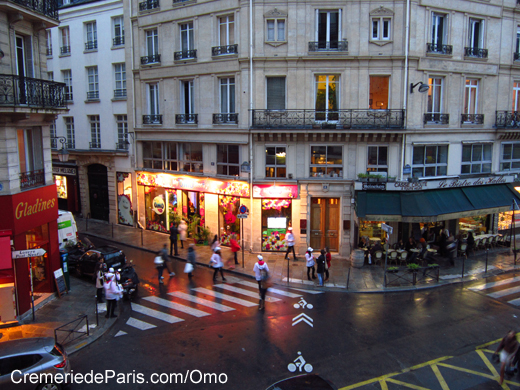 La Photos en noir et blanc montre la Cremerie de Paris au debut des années 1960,
époque ou Coco Chanel y est retournée avec Aimée de Heeren.
Le magasin en face était le primeur Paco Alvarez specialisé en oranges et pommes.

La Photo en couleur montre la Cremerie de Paris en 2014 pour une exposition d'ordinateurs Acer
en 2013 lors d'une exposition pour les lessives Omo,
Le primeur Paco Alvarez qui était plus tard une autre Cremerie (Bofhalles)
est aujourd'hui le Restaurant Gladines,
un des restaurants les plus glamour de Paris (clientèle anti "bling bling", anti "ma-tu-vu" et non liftée).


continue the story ...
Coco Chanel's first visits to
Cremerie de Paris and the mysterious staircase