The Cremerie de Paris has a long history .... period Nicolas V de Villeroy
Cremerie de Paris and the Hotel de Villeroy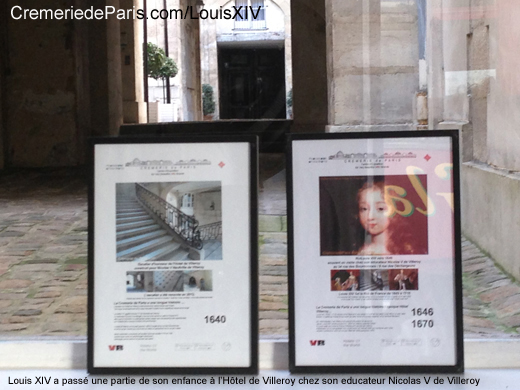 if the frontiers of time would not exist
one could see behind this window the children play in the historic courtyard ...
The children were Louis XIV, 8 years, aready the uncrowned King of France
Catherine de Villeroy, 7 years
Philippe de Bourbon , 6 years
and François de Villeroy, 2 years

At the time of the children the Cremerie's window was a garden,
but the courtyard you see further down
already existed,
almost unchanged
back in 1646.
The old gate of our house located 9 the rue des Déchargeurs is also the same.

historic Villeroy / Bourbon links


links between the Hotel de Villeroy and the Louvre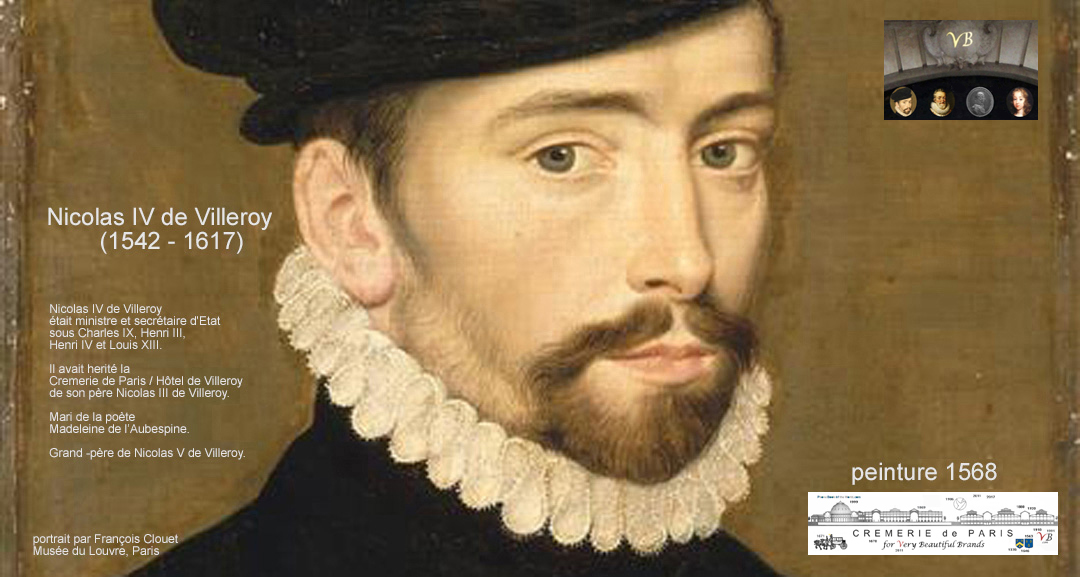 Nicolas IV de Villeroy was already closely linked to the Bourbons.
He was the grandfather of Nicolas V de Villeroy
and great grandfather of François de Villeroy.




Nicolas IV de Villeroy and his wife Madeleine de Villeroy / Madeleine de l Aubespine
were the owners of the Hotel de Villeroy.
Madeleine was a poet and in today's words a "society icon"
in the old times of the Kingdom of France.
She was a friend of Catherine de Medicis, her Lady in waiting.
She was also the spiritual daugther of the renaissance poet Pierre de Ronsard.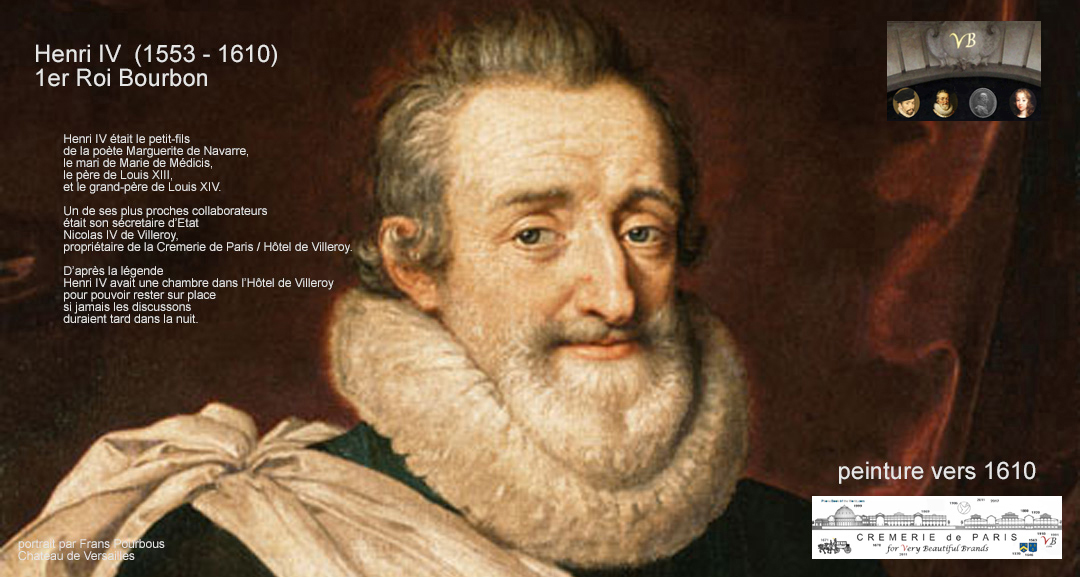 After having advised Catherine de Medici from 1567 -1588
Nicolas IV de Villeroy became in 1594
secretary under the first King of the Bourbon dynasty, Henri IV.
In 1610 Henry IV died on rue des la Ferronnerie (which faces the Hotel de Villeroy).
Henri IV (de Bourbon) was the father of Louis XIII (de Bourbon)
and the grandfather of Louis XIV (de Bourbon).





The young King Louis XIII (Bourbon) was again
helped by Nicolas IV de Villeroy in 1610.

At the end of a long career, probably the longest one
a secretary of state / prime minister ever had in France
Nicolas IV died in 1617.


The heir of the Hotel de Villeroy was his grandson
Nicolas V de Villeroy

Nicolas V was educated at the court of Louis XIII.
He grew up between the city of Lyon,
the Louvre (home of King Louis XIII)
and the nearby Hotel de Villeroy (home of his grandpartents)






In 1615 King Louis XIII got married to Anne d'Autriche.
Due to a complicated marriage
the heir of the crown of France, Louis XIV
was only born 23 years later
September 5th 1638


His father Louis XIII dies Mai 14 1643
when Louis XIV is only 4 years old.


links between the Hotel de Villeroy and the Palais Royal





After the death of Louis XIII
France is governed by the mother of Louis XIV,
Anne d'Autriche who becomes the Regente
and the cardinal Mazzarin.
The move to the Palais Royal

Someone has to take care of the education of the young King Louis XIV.





Mars 1646 Nicolas V de Villeroy, 48 years old
was nominated educator of the young King, a now 7 year old child.
It was a tradition in the Kingdom of France to leave very young Princes with a nanny.
But when the boys became 7 years old
(the age of certain understanding ... in French called "age de raison")
the responsability of their education was handed over to a man.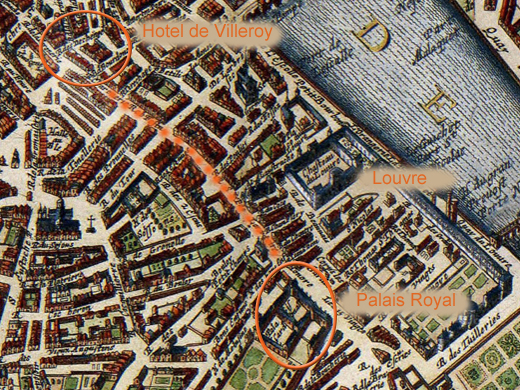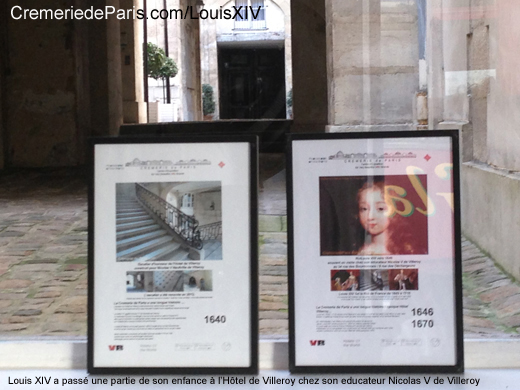 As a result Louis XIV (Bourbon) frequently came to the Hotel de Villeroy,
the main home of his educator
and the home of the young Villeroy children,
Catherine de Villeroy and Francois de Villeroy.
more in part 4/8 of this article



links after the sale of the Hotel de Villeroy

Saint Germain en Laye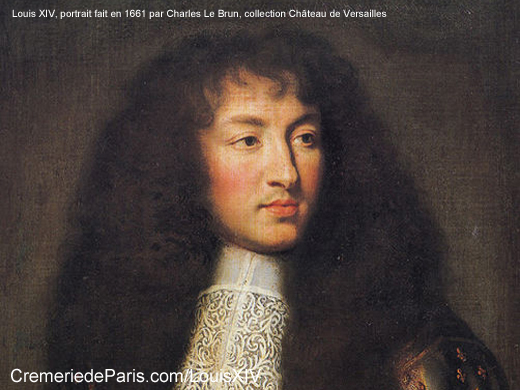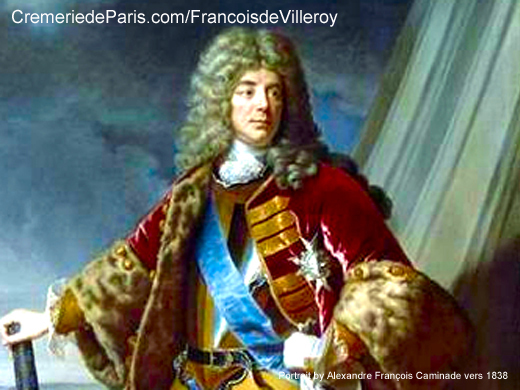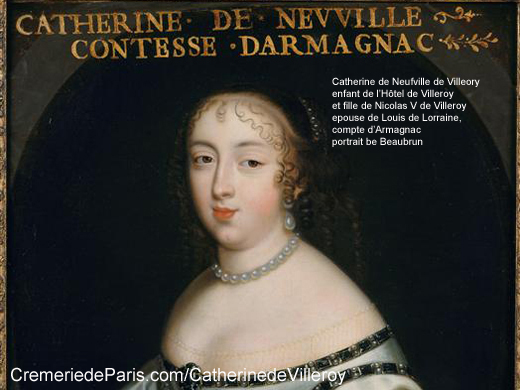 When Louis XIV grows up he settles
in 1661 at the court of Saint Germain en Laye.
His former educator Nicolas V de Villeroy
and his children, Francois de Villeroy and Catherine de Villeroy follow.
more in part 6/8 of this article

The Paris Hotel de Villeroy is sold in 1671.

Versailles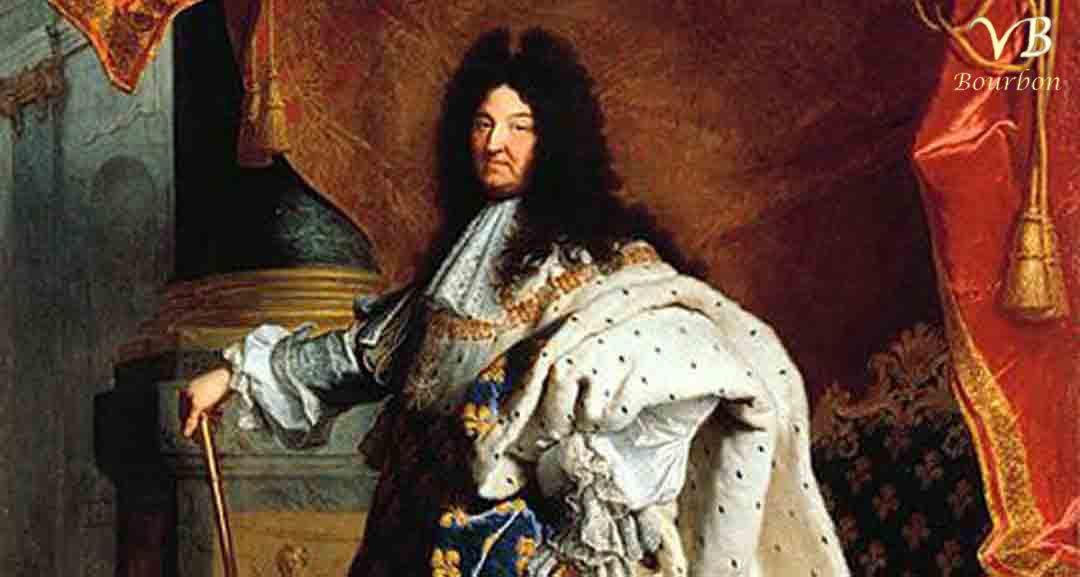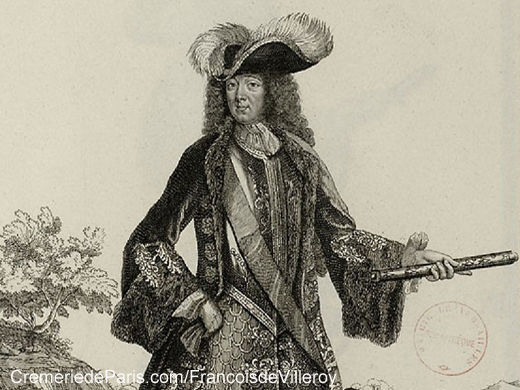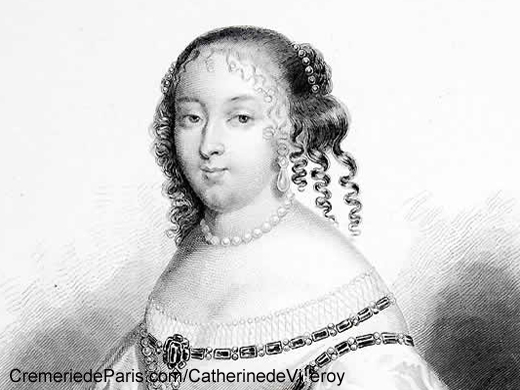 In 1682 everybody lives at the Château de Versailles.
Louis XIV dies 1715
more in part 7/8





In his will Louis XIV designates
his childhood friend François de Villeroy
to become the educator
of his successor, his great grandson Louis XV (Bourbon).


François de Villeroy dies 1730
Louis XV dies 1774

next .... historic Villeroy / Bourbon links (2/8)