Audience Internationale


Le Phone Book of the World.com
Annuaire du Monde.com
contribue à faire rayonner nos Pop Up Stores à travers le Monde.
Lorsqu'un internaute cherche un numéro de téléphone quelque part
il y a une chance qu'il découvre les Pop Up Stores
de la Cremerie de Paris sans même être passé par la France.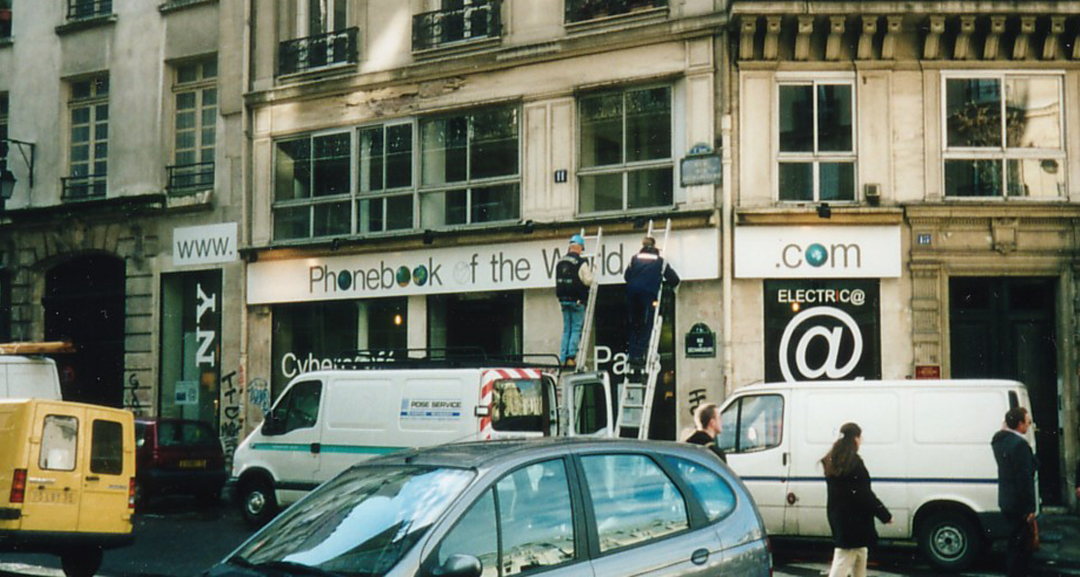 1999 Le Phone Book of the World a été invente
à la Cremerie de Paris au tournant du siècle.
A cette époque elle n'acceuillait pas encore des Pop Up Stores,
mais le tout premiser Cybercafe qui existait à Paris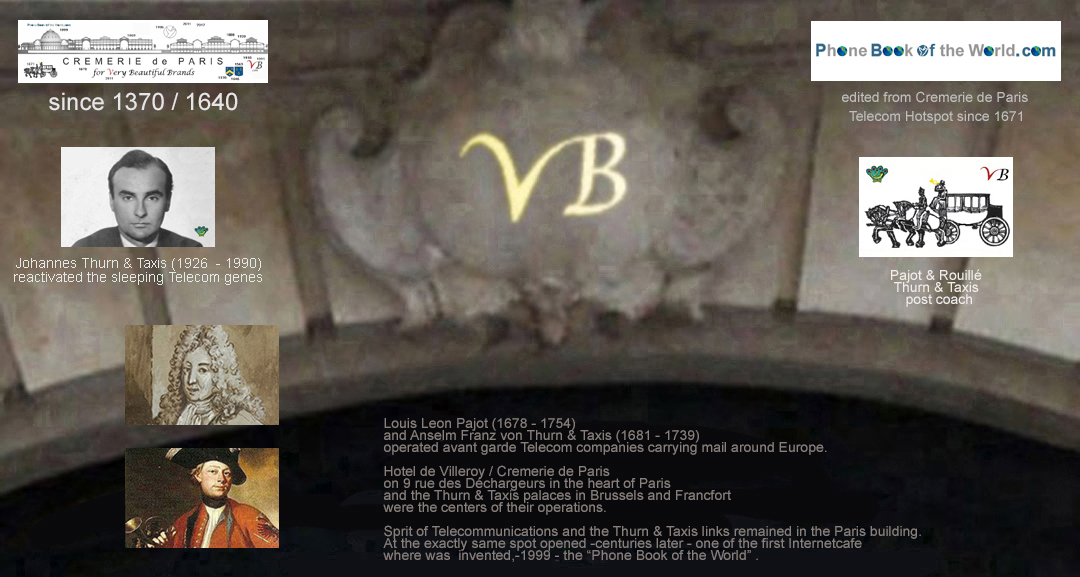 Le Phone Book of the World
est le résultat d'un long long passé dans les Telecommunications
qui remonte jusq'en 1671 où s'est installé à la Cremerie
une petite entreprise qui s'apellait "La Poste"
et qui est devenue La Poste du Roi de France, Louis XIV.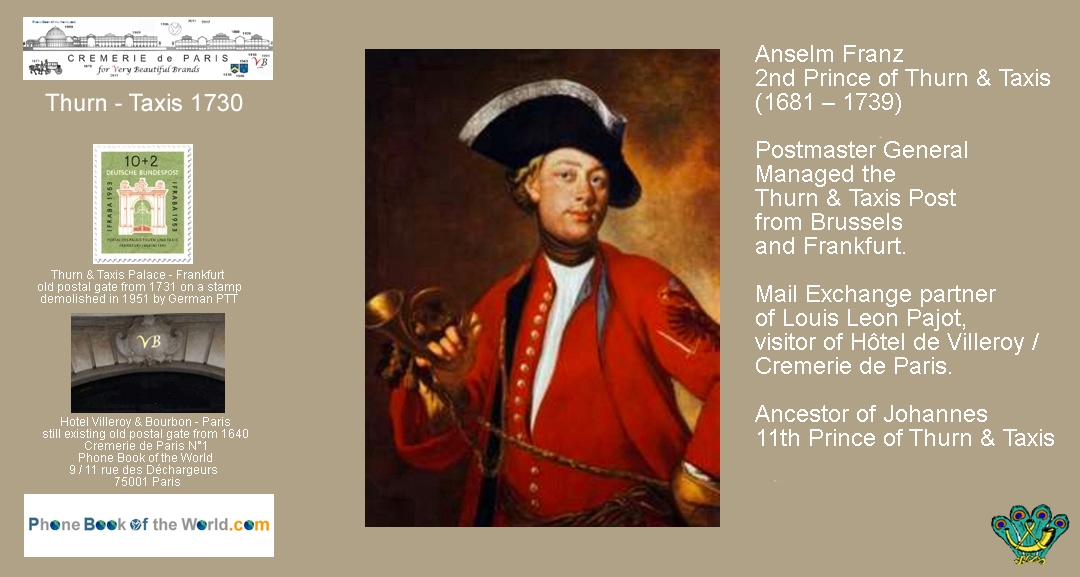 La Poste appartenait à la fiamille Pajot & Rouillé base en France et en Italie.
Elle echangait du courrier
avec les Thurn & Taxis, une autre famille postale qui disposait d'un reseau different.

Notre poste a été supprime en mai 1738
sur un coup de tête de Louis XV.
Le roi qui avait tous les pouvoirs était jaloux de la réussite de cette entreprise.

Oublie en France après a révolution notre poste est pourtant resté dans la mémoire
des Thurn & Taxis.
Diverses generations plus tard ces souvenirs ont
provoqué la réactivation des génes Telecom de la Cremerie de Paris.
Ceci a abouti 13 ans plus tard
à linvention du Phone Book of the World (Annuaire du Monde),
dans les mêmes lieux transformés en Cybercafe.


Rayonnement International
de la Cremerie de Paris

Il existe à Paris de milliers de lieux d'exposition,
mais peu ont une audience aussi internationale:

Principaux lieu de connection
| | | |
| --- | --- | --- |
| | ville | nombre d'utilisateurs |
| | | |
| 1. | (not set) | 115,436 |
| 2. | Sydney | 49,595 |
| 3. | Brisbane | 40,601 |
| 4. | Melbourne | 37,493 |
| 5. | Boston | 30,187 |
| 6. | Auckland | 26,996 |
| 7. | London | 24,301 |
| 8. | Perth | 21,240 |
| 9. | New York | 19,202 |
| 10. | Singapore | 16,109 |
| 11. | Adelaide | 13,199 |
| 12. | Cape Town | 12,610 |
| 13. | Dublin | 11,872 |
| 14. | Christchurch | 11,797 |
| 15. | Toronto | 11,339 |
| 16. | Wellington | 8,705 |
| 17. | Los Angeles | 8,553 |
| 18. | Paris | 8,407 |
| 19. | Mumbai | 7,704 |
| 20. | Tel Aviv-Yafo | 7,379 |
| 21. | Lagos | 6,973 |
| 22. | Houston | 6,613 |
| 23. | Richmond | 6,535 |
| 24. | Ashburn | 6,449 |
| 25. | Dubai | 6,388 |
| 26. | Chicago | 6,151 |
| 27. | Sandton | 6,048 |
| 28. | Canberra | 6,042 |
| 29. | Bengaluru | 5,834 |
| 30. | Stockholm | 5,716 |
| 31. | Chennai | 5,614 |
| 32. | Zurich | 5,537 |
| 33. | Buenos Aires | 5,458 |
| 34. | Kolkata | 5,241 |
| 35. | Montreal | 5,107 |
| 36. | Athens | 5,019 |
| 37. | Kuala Lumpur | 4,970 |
| 38. | Riyadh | 4,841 |
| 39. | Tauranga | 4,824 |
| 40. | Zagreb | 4,727 |
| 41. | Berlin | 4,684 |
| 42. | San Diego | 4,662 |
| 43. | Beijing | 4,618 |
| 44. | Seattle | 4,529 |
| 45. | Washington | 4,515 |
| 46. | Gold Coast | 4,441 |
| 47. | Dallas | 4,431 |
| 48. | New Delhi | 4,422 |
| 49. | Casablanca | 4,411 |
| 50. | Hyderabad | 4,371 |
| 51. | Columbus | 4,366 |
| 52. | Kingston | 4,294 |
| 53. | Copenhagen | 4,280 |
| 54. | Pune | 4,169 |
| 55. | Colombo | 4,084 |
| 56. | Rome | 4,037 |
| 57. | San Francisco | 3,964 |
| 58. | Vienna | 3,962 |
| 59. | Pretoria | 3,896 |
| 60. | Ahmedabad | 3,888 |
| 61. | Oslo | 3,722 |
| 62. | Milan | 3,682 |
| 63. | Karachi | 3,622 |
| 64. | Hamilton | 3,528 |
| 65. | Calgary | 3,412 |
| 66. | Ottawa | 3,384 |
| 67. | Munich | 3,379 |
| 68. | Jakarta | 3,378 |
| 69. | Austin | 3,317 |
| 70. | San Antonio | 3,304 |
| 71. | Lahore | 3,274 |
| 72. | San Jose | 3,216 |
| 73. | Johannesburg | 3,159 |
| 74. | Jeddah | 3,144 |
| 75. | Atlanta | 3,115 |
| 76. | Detroit | 3,114 |
| 77. | St. Louis | 3,111 |
| 78. | Port-of-Spain | 2,915 |
| 79. | Durban | 2,817 |
| 80. | Vancouver | 2,716 |
| 81. | Quezon City | 2,694 |
| 82. | Beirut | 2,586 |
| 83. | Hong Kong | 2,574 |
| 84. | Amsterdam | 2,531 |
| 85. | Cologne | 2,524 |
| 86. | Frankfurt | 2,508 |
| 87. | Phoenix | 2,486 |
| 88. | Philadelphia | 2,463 |
| 89. | Bangkok | 2,301 |
| 90. | Miami | 2,265 |
| 91. | Geneva | 2,261 |
| 92. | Hamburg | 2,246 |
| 93. | Charlotte | 2,237 |
| 94. | Chandigarh | 2,222 |
| 95. | Mississauga | 2,198 |
| 96. | Lucknow | 2,181 |
| 97. | Belgrade | 2,170 |
| 98. | Istanbul | 2,151 |
| 99. | Orlando | 2,132 |
| 100. | Saint Michael | 2,130 |
| 101. | Central Coast | 2,124 |
| 102. | Edmonton | 2,114 |
| 103. | Palmerston North | 2,103 |
| 104. | Indore | 2,101 |
| 105. | Dunedin | 2,063 |
| 106. | Nairobi | 2,061 |
| 107. | Reykjavik | 2,045 |
| 108. | Accra | 2,041 |
| 109. | Denver | 1,999 |
| 110. | Makati | 1,923 |
| 111. | Minneapolis | 1,915 |
| 112. | Port Louis | 1,896 |
| 113. | Gothenburg | 1,888 |
| 114. | Madrid | 1,875 |
| 115. | Portland | 1,870 |
| 116. | Doha | 1,869 |
| 117. | Abu Dhabi | 1,845 |
| 118. | Napier | 1,842 |
| 119. | Oslo Municipality | 1,841 |
| 120. | Winnipeg | 1,826 |
| 121. | Kyiv | 1,779 |
| 122. | Addis Ababa | 1,774 |
| 123. | Hamilton | 1,771 |
| 124. | Macon | 1,760 |
| 125. | Jaipur | 1,754 |
| 126. | Budapest | 1,753 |
| 127. | Barcelona | 1,710 |
| 128. | Islamabad | 1,705 |
| 129. | Georgetown | 1,694 |
| 130. | Whangarei | 1,681 |
| 131. | Mexico City | 1,679 |
| 132. | Kingston | 1,663 |
| 133. | Birmingham | 1,657 |
| 134. | Ocala | 1,655 |
| 135. | Indianapolis | 1,634 |
| 136. | Helsinki | 1,599 |
| 137. | Msida | 1,596 |
| 138. | Farmington | 1,595 |
| 139. | Bucharest | 1,588 |
| 140. | Plano | 1,557 |
| 141. | Nelson | 1,556 |
| 142. | Glasgow | 1,553 |
| 143. | Brussels | 1,552 |
| 144. | Surrey | 1,541 |
| 145. | Sunshine Coast | 1,497 |
| 146. | Saint John's | 1,472 |
| 147. | Warsaw | 1,461 |
| 148. | Manchester | 1,438 |
| 149. | Omaha | 1,427 |
| 150. | Edinburgh | 1,405 |
| 151. | Sharjah | 1,405 |
| 152. | Sao Paulo | 1,397 |
| 153. | Ballinger | 1,387 |
| 154. | Long Beach | 1,385 |
| 155. | Basel | 1,374 |
| 156. | Bergen Municipality | 1,351 |
| 157. | Saint George's | 1,331 |
| 158. | Rotorua | 1,303 |
| 159. | Kingstown | 1,293 |
| 160. | Port Elizabeth | 1,290 |
| 161. | Nashville | 1,287 |
| 162. | Thessaloniki | 1,287 |
| 163. | Limassol | 1,285 |
| 164. | Albuquerque | 1,282 |
| 165. | Cairo | 1,277 |
| 166. | Parauapebas | 1,254 |
| 167. | Leeds | 1,245 |
| 168. | Tampa | 1,239 |
| 169. | Brampton | 1,223 |
| 170. | Manama | 1,220 |
| 171. | Tucson | 1,215 |
| 172. | New Plymouth | 1,200 |
| 173. | Luxembourg City | 1,194 |
| 174. | Saint Julian's | 1,182 |
| 175. | Cairns | 1,178 |
| 176. | Moscow | 1,170 |
| 177. | La Victoria | 1,157 |
| 178. | Tunis | 1,157 |
| 179. | Cebu City | 1,151 |
| 180. | Kansas City | 1,149 |
| 181. | Seymour | 1,140 |
| 182. | Centurion | 1,132 |
| 183. | Kathmandu | 1,123 |
| 184. | Abuja | 1,120 |
| 185. | Rawalpindi | 1,117 |
| 186. | Louisville | 1,107 |
| 187. | London Canada | 1,097 |
| 188. | Newcastle | 1,096 |
| 189. | Santiago | 1,095 |
| 190. | Patna | 1,094 |
| 191. | Lausanne | 1,090 |
| 192. | Las Vegas | 1,079 |
| 193. | Noida | 1,073 |
| 194. | Turin | 1,068 |
| 195. | Bern | 1,058 |
| 196. | Jerusalem | 1,058 |
| 197. | Virginia Beach | 1,055 |
| 198. | Toowoomba | 1,051 |
| 199. | Bogota | 1,049 |
| 200. | Bristol | 1,039 |
| 201. | Roodepoort | 1,033 |
| 202. | Sofia | 1,028 |
| 203. | Liverpool | 1,023 |
| 204. | Seoul | 1,017 |
| 205. | Sacramento | 1,015 |
| 206. | Stuttgart | 1,014 |
| 207. | Wollongong | 994 |
| 208. | Raleigh | 989 |
| 209. | Lisbon | 983 |
| 210. | Dortmund | 975 |
| 211. | Surabaya | 963 |
| 212. | Birmingham | 959 |
| 213. | Dusseldorf | 952 |
| 214. | Dammam | 952 |
| 215. | Cork | 945 |
| 216. | Launceston | 939 |
| 217. | Prague | 928 |
| 218. | Queenstown | 922 |
| 219. | Darwin | 919 |
| 220. | Malmo | 915 |
| 221. | Trondheim Municipality | 908 |
| 222. | El Paso | 902 |
| 223. | Sheffield | 900 |
| 224. | Lyon | 891 |
| 225. | Fort Worth | 890 |
| 226. | Kitchener | 883 |
| 227. | Gurgaon | 874 |
| 228. | Oklahoma City | 857 |
| 229. | Manila | 847 |
| 230. | Ljubljana | 846 |
| 231. | Memphis | 844 |
| 232. | Hobart | 831 |
| 233. | Yerevan | 825 |
| 234. | Berea | 821 |
| 235. | Kochi | 799 |
| 236. | Jacksonville | 799 |
| 237. | Porirua | 796 |
| 238. | Madison | 794 |
| 239. | The Hague | 788 |
| 240. | Burnaby | 779 |
| 241. | Randburg | 776 |
| 242. | Toulouse | 773 |
| 243. | Colorado Springs | 773 |
| 244. | Ho Chi Minh City | 773 |
| 245. | Lower Hutt | 770 |
| 246. | Pittsburgh | 769 |
| 247. | Ann Arbor | 768 |
| 248. | Malaga | 745 |
| 249. | Marrakesh | 734 |
| 250. | Bologna | 731 |
This report was generated on 7/18/18 at 1:05:52 AM - Refresh Report





Becoming a Meeting place
for the World's most famous brands

Le temps du Cybercafe était limité,
le wifi et l'accès internet sur les portables rendait le café obsolète.
Il fallait trouver quelque chose de nouveau.

Le hasard de la vie nous a amené vers une nouvelle aventure.
Transformer notre Cremerie historique
en un petite musée
où des marques magiques peuvent exposer au monde leur savoir-faire.



liste des principaux Pop Up Stores





---