Like this page on FB.com / Facebook:
Badoo Pop Up Store / The Honest Gallery
---
Badoo Pop Up Store à la
Cremerie de Paris N°1
mercredi 23 octobre au samedi 26 octobre 2019
Programme du Pop Up Store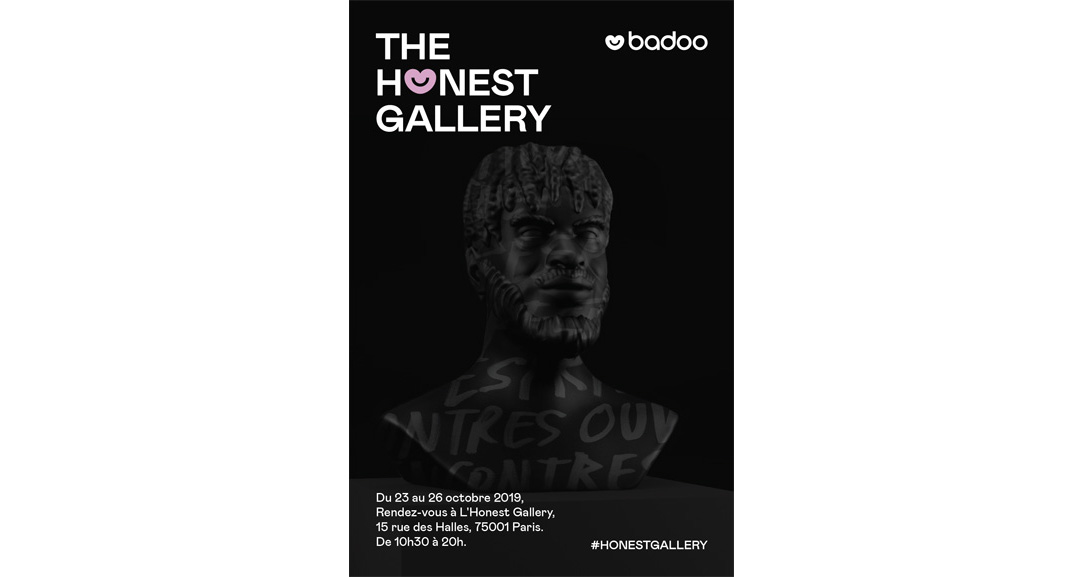 Au programme : Une exposition du nouveau talent français Hamadou Frederic Balde,
des installations digitales ultra pointues et futuristes,
et aussi des installations artistiques mettant en avant leurs utilisateurs.
Une expérience digitale immersive, entre art moderne et street-art.
Esprits créatifs derrière Le Pop Up Store Badoo:
Le Pop Up Store Badoo est organisé par Ingrid Sikotty et Maja pour Andrey Andreev
avec l'aide de Maxime Le Toquis, Nicolas Fretelhiere, Manuel Tocanne, Lea Guilleminot
de l'agence
Goodkids
et
Baptiste
voir aussi
page Goodkids
0.37 min Video Making of Badoo Hones Galerie / les Coulisses (2019)
0.30 min Video Badoo ouvre les Portes de la Honest Gallery en plein coeur de Paris (2019)
1.08 min Video Badoo Honest Gallery retour en images (2019)
1:00 min Video En toute honnêté (2019)
1:24 min Video Date Honestly (2019)
La marque Badoo:
Badoo est un site de rencontre lancé à Moscou et à Londres en 2006
par l"entrepreneur Russe Andrey Andree.
Badoo fait partie des sites de rencontres les plus populaires.
Badoo a differentes specificités qui permetent
à ses utilisateurs de faire des rencontres.
Quand un utilisateur s'inscrit
il peut choisir s'il veut rencontrer des personnes nouvelles
pour une rencontre romantique, pour chatter our pour trouver de nouveaux amis.
Des utilisateurs peuvent chatter, telecharger des photos et videos
at partager leurs interets et voir s'ils ont des amis en commun.
Les facilités principales incluent:
- Personnes dans les alentours.
- Recherche: trouver des inscrits dans une ville differente ou un autre coin du monde.
- Rencontres: Quand un utilisateur se connecte sur la droite (oui)
ou sur la gauche (non) sur le profil d'un autre inscrit.
Si jamais les deux parties cliquent sur oui ils sont informés.
- Video Chat en 2017 Badoo a lance son video chat
qui permet à ses membres de se parler en temps réel
Le site exite en langues:
Anglais, Alban, Allemand, Arabe, Catalan, Chinois, Czech, Daniois, Espagnol, Hollandais,
Finnois, Français, Greec, Hebreu, Hongrois, Indonesien, Italien,
Japanais, Lithuanien, Polonais, Portugais, Russe, Slovac, Slovenien, Suedois,
Turc, Ukrainien.
La companie est connue pour des campagnes de publicités innovantes
et la couleur orange.
accès au Badoo Pop Up Store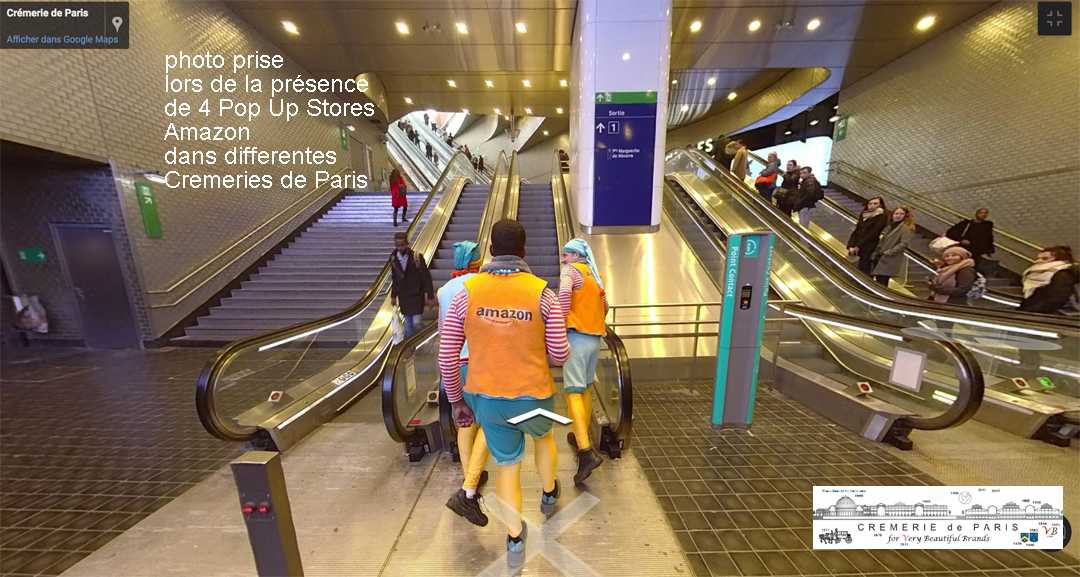 En Metro / RER

utilisez la toute nouvelle sortie N°1 Porte Marguerite de Navarre
de la station
ChateletlesHalles.com/sortie1
-
RER B
liaison directe
avec les aeroports
Roissy CDG
(30 min - prendre un train sans arrèt)
Orly
(30 min RER B et Orlyval) et Gare du Nord (4 min).
-
Metro 4
connexion directe
avec la Gare de l'Est (15 min) et la Gare Montparnasse (19 min)
-
Metro 14
connexion directe
avec la Gare de Lyon (8 min) et la Gare Saint Lazare (9 min).
-
Metro 1
connexion directe
avec les Champs Elysées (15 min)
La sortie Chatelet les Halles N°1 se trouve
face
aux Cremeries de Paris,
N°1
,
N°2
,
N°6
,
N°9
,
N°18
,
N°19
,Pop Up Stores et
N°3
,
N°4
,
N°7
,
N°8
,
N°10
Pop Up Cafes.
La Boutique Badoo se trouve derrière de la sortie
Marguerite de Navarre
dans la Cremerie N°9.
Marguerite est déja venue,
car c'était une amie de la famille de
Villeroy
,
anciens proprietaires de la Cremerie de Paris,
mais c'était il y a bien longtemps ...
Marguerite est considere comme la grand-mère des
Bourbons
,
le "B" du
VB.com
En
Bus
(11,24,67,69,72,74,76,81,86) arrèt rue de Rivoli / Pont Neuf
En Voiture, parking Pont Neuf face à la Samaritaine
ou Parking Berger (entrée par tunel qui part de la rue des Halles,
le 2eme !! parking dans le tunnel, pas le 1er)
En Scooter
garer votre scooter dans une zone moto, pas une zone velo !
---