Like this page on FB.com / Facebook:
Racer Worldwide first Pop Up Store
---
Racer Worldwide Pop Up Store à la
Cremerie de Paris N°1
vendredi 1er octobre au samedi 2 octbre 2021
Programme du Pop Up Store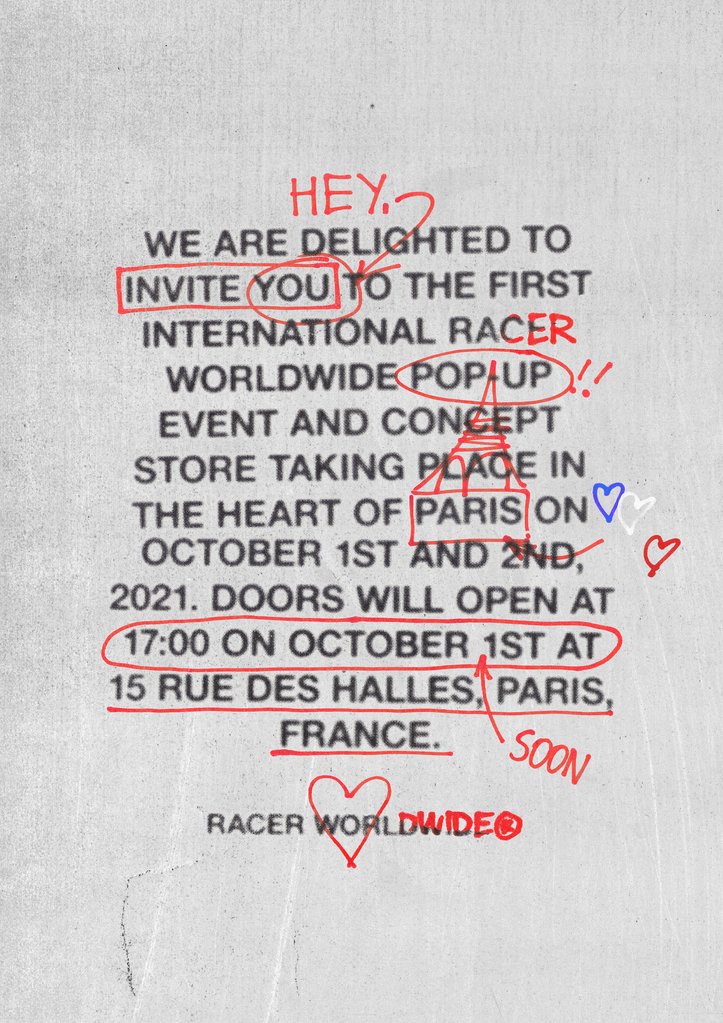 Au programme : Presence de l'artiste Russe
Esprits créatifs derrière Le Pop Up Store Racer:
Le Pop Up Store Badoo est organisé par Yuri Belov, directeur artistique
et producgteur Video de Racer Worldwide
.
Personne de l'équipe présente de Racer Worldwide:
Mihhail Zigadlo - PDG et designer
Dmitri Gerasimov - designer
Vadim Stupakov - directeur de la production
Matvei Breganov - production
Maria Toenisberg - communication et relations publiques
Maria Dulushkova - production
Vladimir Mosendz - directeur logistique
Ekaterina Shekhovtsova - responsable de l'équie d'assistance
L'artiste Russe Anton Reva (Instagram @savemymind)
a réalise deux tableaux
3D Visit of Racer Worldwide at Cremerie de Paris N°1
3D Visit of Cremerie de Paris N°1 empty
The Museum does not yet include the Racer World Pop Up
as the 3D Visit was done before the event.
Racer Worldwixe will be added to the Museum for the next 3D shooting
Racer Worldwide Videos
6:54 min Interview with company founder Mihhail Zigaldo (2021)
1:09 min Video Racer Worldwide Untitled Official Video (2021)
2:58 min Video marp$ - Tibulinnu ft. Clicherik (2019)
La marque Racer Worldwide:
Racer Worldwide est une marque de Underground fashion
qui est né dans l'esprit d'un jeune garçon de 16 ans,
Mihhail Zigadlo
lorsequ'il se trouvait à l'école.
L'aventure a demarre comme un hobby
sans un oncle fortuné en Amerique
qui aurait envoyé quelques "sous".
Les vetements on plu
et grâce à Internet ils ont commence à se vendre très vite.
A l'age de 20 ans
Mihhail a ouvert son premier Pop Up Store
à l'occasion de la fashion week oct 2021.
Le succès était telle
que tout le coeur de Paris
continue à en parler ...
A true fashion story ...
accès au Racer Worldwide Pop Up Store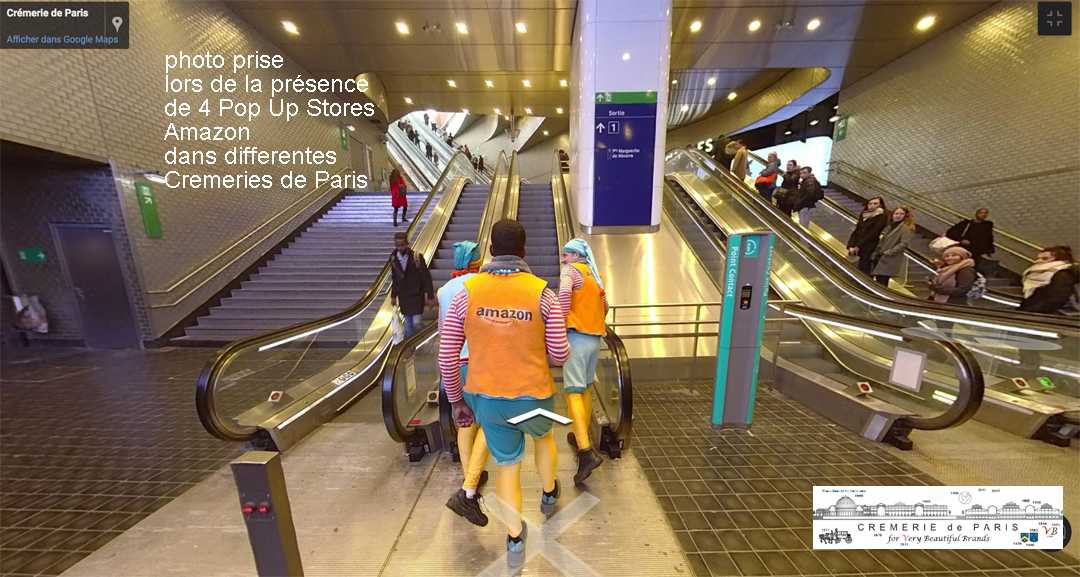 En Metro / RER

utilisez la toute nouvelle sortie N°1 Porte Marguerite de Navarre
de la station
ChateletlesHalles.com/sortie1
-
RER B
liaison directe
avec les aeroports
Roissy CDG
(30 min - prendre un train sans arrèt)
Orly
(30 min RER B et Orlyval) et Gare du Nord (4 min).
-
Metro 4
connexion directe
avec la Gare de l'Est (15 min) et la Gare Montparnasse (19 min)
-
Metro 14
connexion directe
avec la Gare de Lyon (8 min) et la Gare Saint Lazare (9 min).
-
Metro 1
connexion directe
avec les Champs Elysées (15 min)
La sortie Chatelet les Halles N°1 se trouve
face
aux Cremeries de Paris,
N°1
,
N°2
,
N°6
,
N°9
,
N°18
,
N°19
,Pop Up Stores et
N°3
,
N°4
,
N°7
,
N°8
,
N°10
Pop Up Cafes.
La Boutique Badoo se trouve derrière de la sortie
Marguerite de Navarre
dans la Cremerie N°9.
Marguerite est déja venue,
car c'était une amie de la famille de
Villeroy
,
anciens proprietaires de la Cremerie de Paris,
mais c'était il y a bien longtemps ...
Marguerite est considere comme la grand-mère des
Bourbons
,
le "B" du
VB.com
En
Bus
(11,24,67,69,72,74,76,81,86) arrèt rue de Rivoli / Pont Neuf
En Voiture, parking Pont Neuf face à la Samaritaine
ou Parking Berger (entrée par tunel qui part de la rue des Halles,
le 2eme !! parking dans le tunnel, pas le 1er)
En Scooter
garer votre scooter dans une zone moto, pas une zone velo !
---