Like this page on FB.com / Facebook:
Shein x Klarna Pop Up



---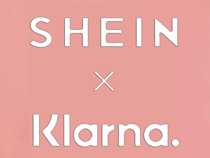 Shein.com
Klarna.com
Shein x Klarna Pop Up
Instagram @sheinfrance
Instagram @justeatuk
Instagram @cremeriedeparis
FB.com / Facebook
Youtube Shein

Youtube Klarna
Youtube Cremerie de Paris
Phone Book of the World Expos


Shein x Klarna Pop Up Store @ Cremerie de Paris N°1

To celebrate summer
Klarna organised a "Summer Oasis Pop Up Store"
@ Cremerie de Paris
opening 2022 June 23 thursday
The Pop Up wil be open until 2022 july 10.

Before this Pop Up
Shein and Cremerie de Paris
already had some historic links.

When Shein was still a new un unknown company
Mrs Su Qing was asked to use her talents
to help Shein become the World's
most valuable fashion brand.

One of the first things Su Qing decided to do
was to open a Pop Up Store in Paris.

Fascinated by fashion she decided
to come to Cremerie de Paris
due to the locations fascinating "fashion roots"
going back to the year 1648




Two Shein Pop Up Stores
organised at Cremerie de Paris in 2019
were an overwhellming success.


Captived by the long fashion history
of Cremerie going back to the times
of the Kings of France,
mainly Louis XIV and Marie Antoinette
the design team of Klarna
selected Cremerie de Paris
for it's European tour.






Shein and Klarna

The Summer oasis was imagined
so that fans of Shein and Klarna
would have some good time
around fashion.


On the program
Beauty Bar
Makeup, makeovers and tatoos

Ice Cream and Cafe Bar
every day : 12h - Closing

Live DJ
Friday and Saturday : 16h - Closing

Exchange of Clothes
Possibility to change clothes
friday and saturday: 14h - 16h

Workshops
Beauty Workshop hosted by a surprise guest
Monday June 27 : 14h30 - 15h
Monday July 4 : 14h30 - 15h

Fashion workshop
animated by @bobbcharlotte
Wednesday June 29 : 14h30 - 15h
Wednesday July 6 : 14h30 - 15h


Panel on the future of Fashion
Beauty workshop hosted by a surprise guest
Friday July 1 : 14h30 - 15h
Friday July 8 : 14h30 - 15h




Creative people behind
the Shein x Klarna Pop Up Store:

Le Pop Up Store is an idea of Klarna.
entirely organised from Sweden.


Cremerie de Paris was selected as the Paris location
by Daniel Chang
and Jonathan Haralambakis from X Nomad

design of the projet
Matthias Schedvin
and a Stockholm based design team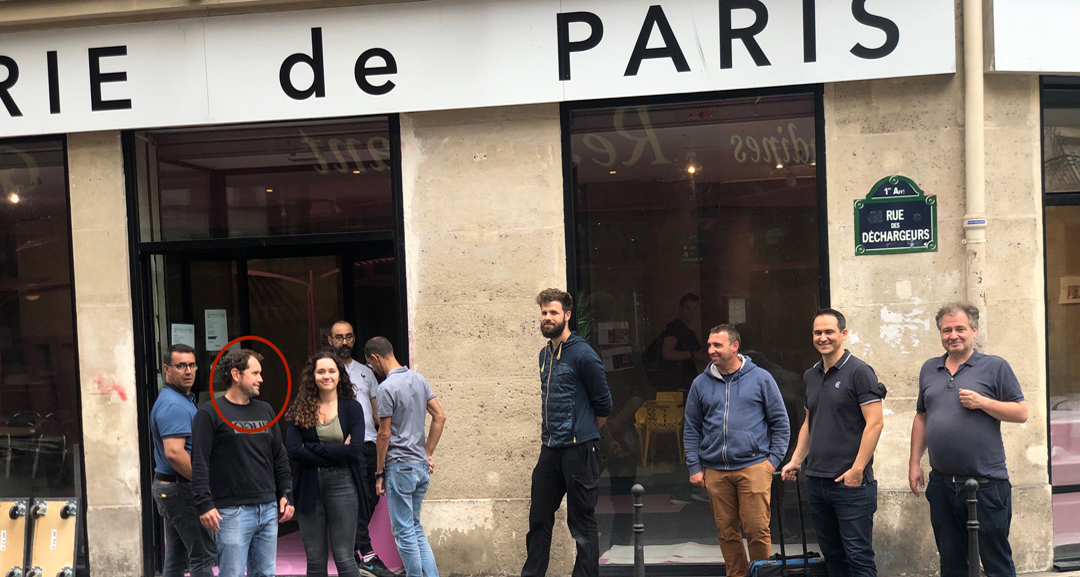 Construction
under the direction of Dimitri Bunder
and a team coming from
from Paris and Amsterdam
with Anna Bondarenko Xclusive International

Management of the Pop Up Store
Doris Xu and Djingjing (Klarna Shaghai)

Yazid Bouchakour (store manager)

Emma Kort, Aline Anayahan,
Eva Francisco, Silan Torunogullar
and Djeriane Migue (Fashion hostesses)

PR and Social Events around the Pop Up
Lois Baudry, Theo Chauvin, Laura Lassouag
from the Swedish agengy Work Shop



Shein x Klarna Pop Up Store (CremeriedeParis.com/sheinxklarna/visit)

Cremerie de Paris N°1 vide (
CremeriedeParis.com/no1/visit
)
Shein x Klarna will be in the next opdate of the 3D visit
sheduled for september 2022.
Videos made at Cremerie de Paris
0:57 min Shein x Klarna Pop Up Store (2022)
0:58 min Chatelet les Halles Sortie 1 - Pop Up Store Shein x Klarna (2022)
2:03 min Video from Samaritaine to Shein x Klarna Pop Up Store Paris (2022)
Shein x Klarna Videos
0:18 min SHEIN X KLARNA Pop Up Shop (2019)
Instagram Posts


Klarna:
2005
Foundation of Klarna Bank AB in Sweden
by Niklas Adalberth,
Sebastian Siemiatkowski and Victor Jacobsson
2008
December 12 Registration of the Domain name
Klarna.com


Video How to use Klarna (2021)

The House of Shein:
1998 January 16 Registration of the domain Shein.com
2008 foundation of the House of Shein by Chris Xu in Nanjing, China
the company is specialised in wedding dresses
2011 March 18 Registration of the domain Sheinside.com
2015 The House of Shein buys the internet domaine Shein.com for 95.000 USD



Cremerie de Paris and fashion:

Cremerie de Paris has a very long and unique fashion history.

1648 Construction of the Pavillon des Drapiers.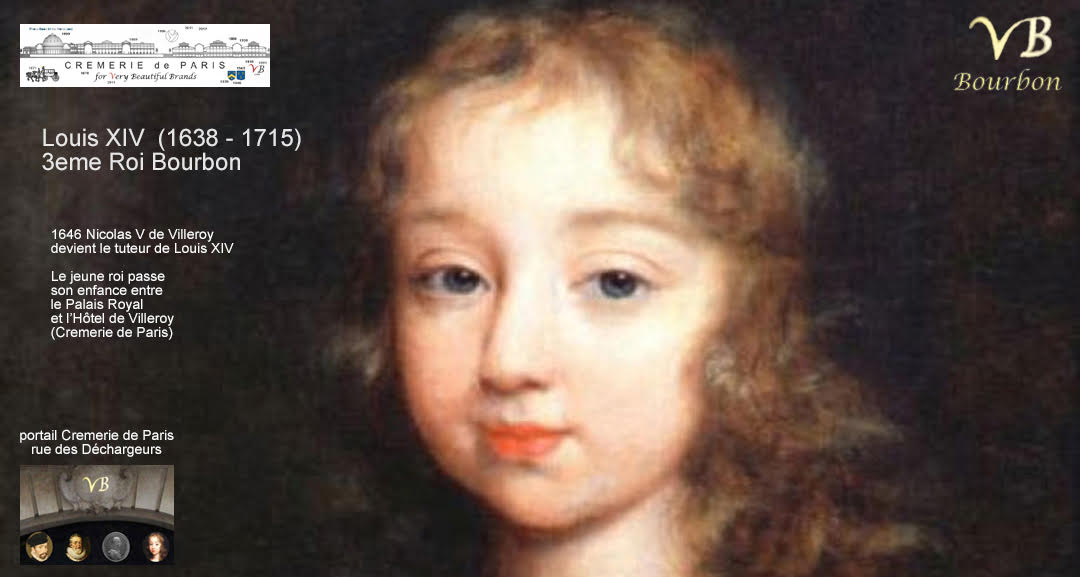 a child watches the construction of the building
located right next to his "school"
the home of his teacher Nicolas V de Villeroy
the Hotel de Villeroy Bourbon.

The child is the young King Louis XIV,
7 years old.
.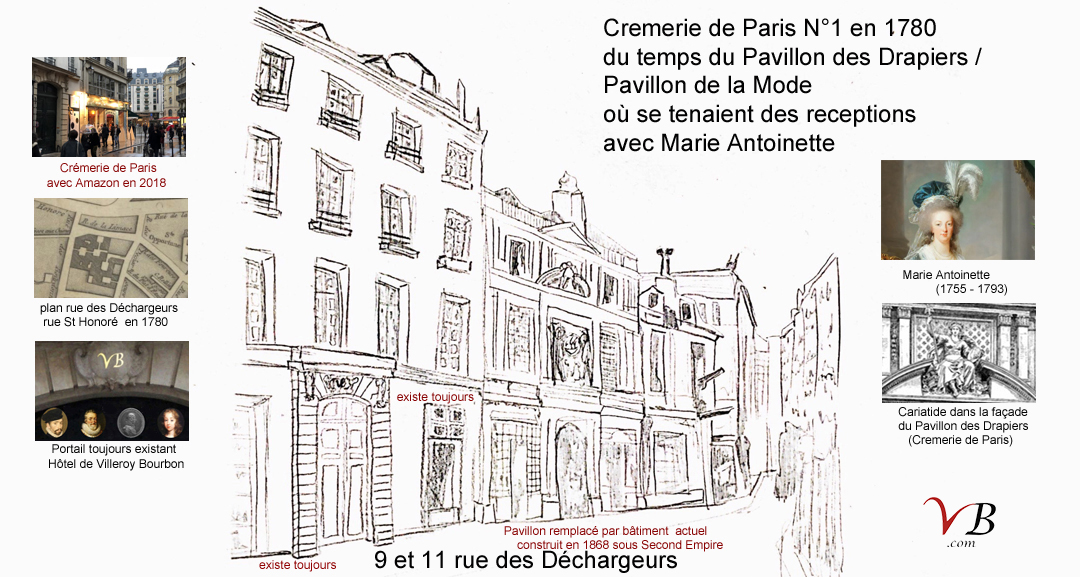 1660 The construction is finished
and the Pavillon des Drapiers
becomes the meeting place of the
people working in tissues and fashion.
The mission of the pavillon is to represent
the interests of the professions towards the
Bourbons, Kings of France.

1671 January 21 Nicolas V de Villeroy sells his house,
as the family is invited to live at the future Versailles Palace.
l'Hotel de Villeroy Bourbon à des entrepreneurs.
Teh buyers ar two young man
who create the Royal French Postal services
the roots of todays
Phone Book of the World

1700 years Pavillon de Drapiers is a fashion hotspot
Marie Antoinette loves to come to meetings
so she can meet young designers.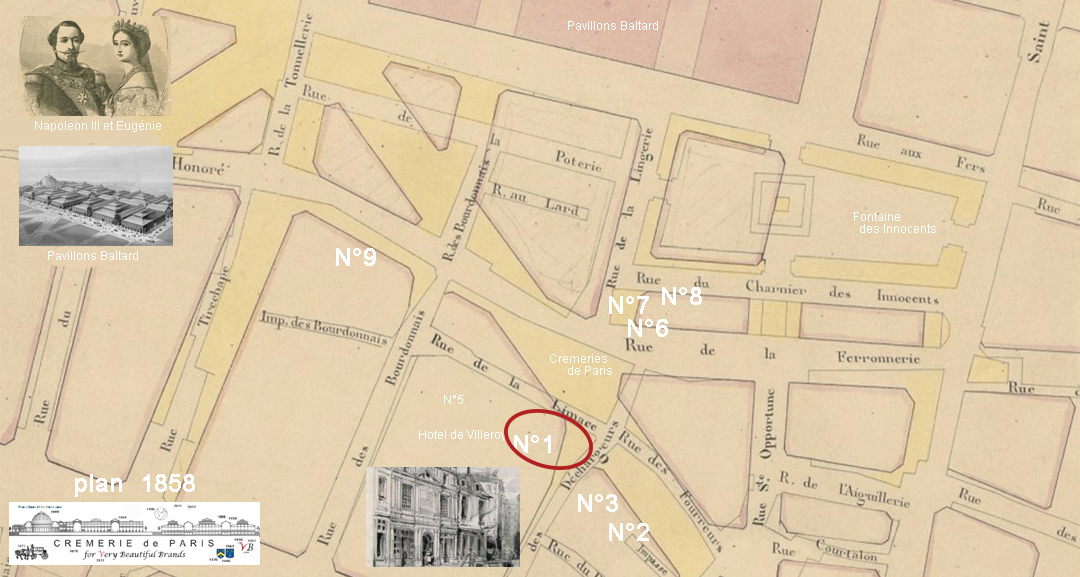 1848 Napoleon III becomes President,
and 1853 Emperor of the French.
He has the project to renovate
the centuries old Les Halles foodmarket.
Sadly the walls of the Pavillon des Drapiers
have to go to build the future rue des Halles.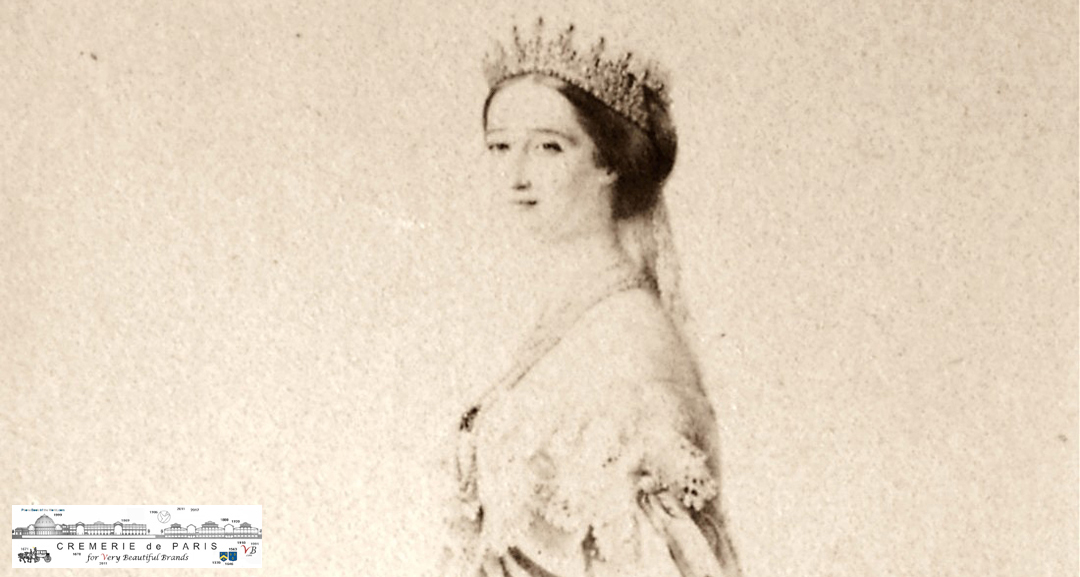 His wife Empress Eugenie
is what you whould today call "art director"
of the project .
She request the facade of the Pavillion be conserved
and rebuild in the musée Carnavalet.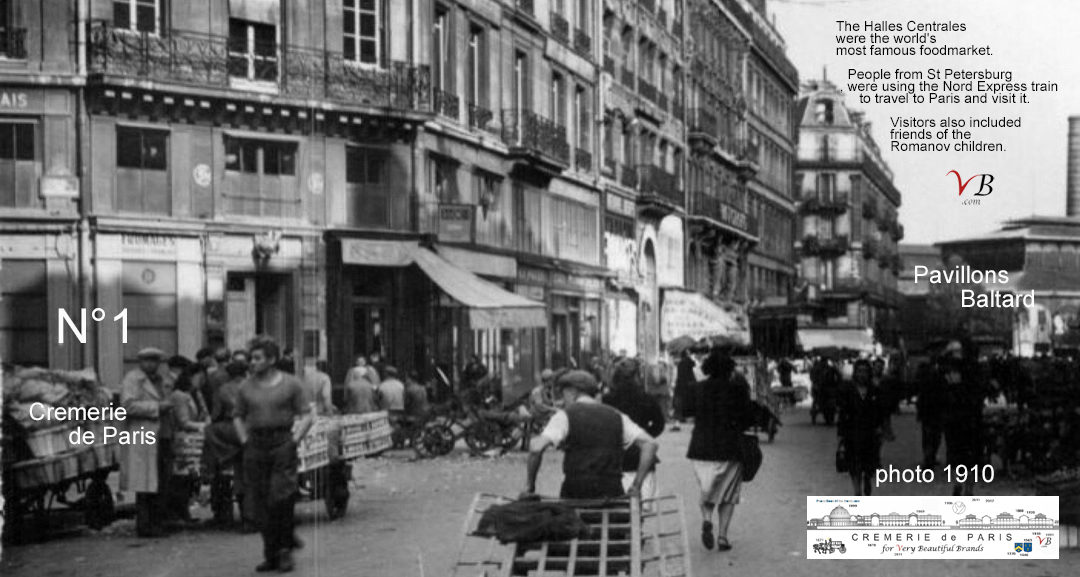 1869 On the exact same geographic location
of the Pavillion des Drapiers
et sur une partie de l'Hôtel de Villeroy Bourbon
opens Cremerie de Paris,
a milk store of the Halles Centrales foodmarket.
Parts of the Cremerie also go into VB,
the still exisiting Hôtel de Villeroy Bourbon.

1870 France is attacked by Prussia.
At the end of the war the Imperial family
has to leave France. Queen Victoria grants exile
in the Unted Kingdom.

Eugénie continues to live for another 50 years .
Hostalgic of France
she starts telling children
the stories of the Halles de Paris area
she has helped to be build.
The heart of the stories
are Cremerie de Paris,
a place sourrounded by legends and fairytales
connected to the child Louis XIV
and crazy and funny fashion stories.
Most captivated by the stories
is one of Queen Victoria's young granddaugter
Alix Hessen.

1898 Alix has grown up and marries Nicolas II
She takes Eugénie's fairytales about Paris with her to Russia
to lated repeat them to her own children.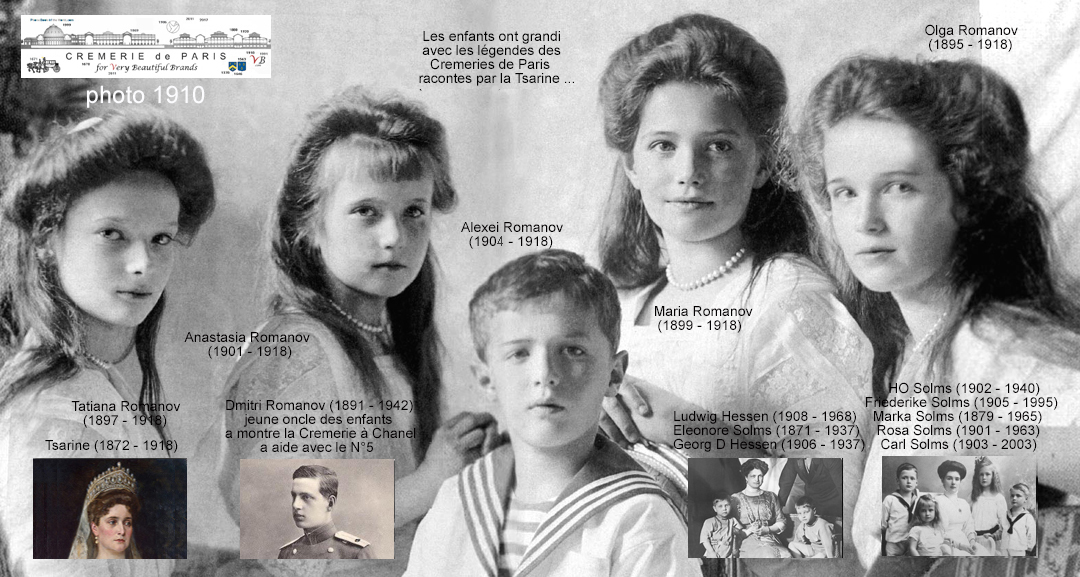 1910 Alixe's children loved the
les legendes around Cremerie de Paris.
They all wanted to come to Paris
to discover the place
like other children want to see
the house of Santa Claus or the castle of Snowwhite,
but they did not survive the Russian Revolution.
The best know of the children was Anastasia Romanov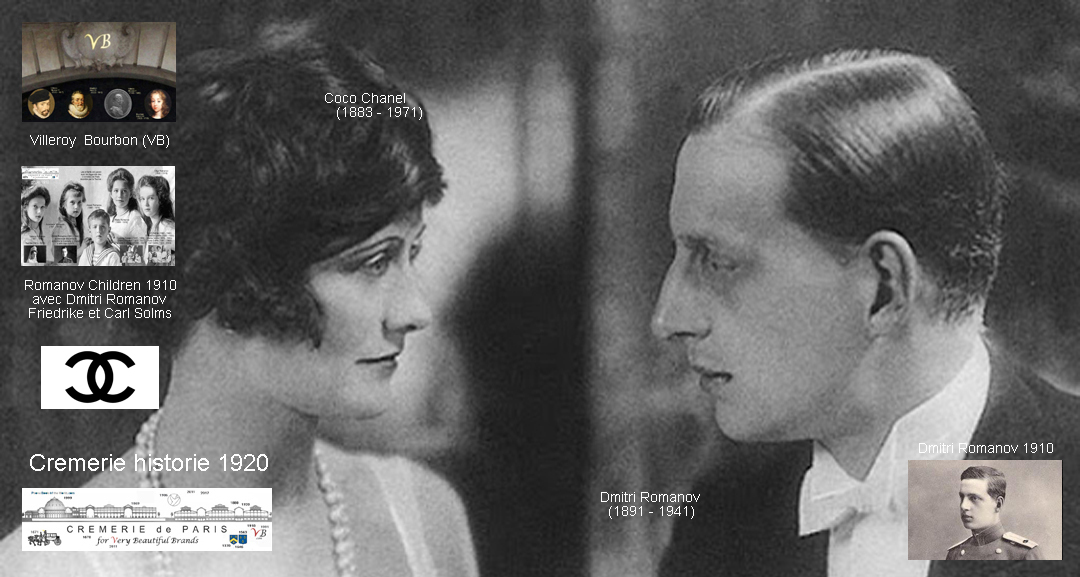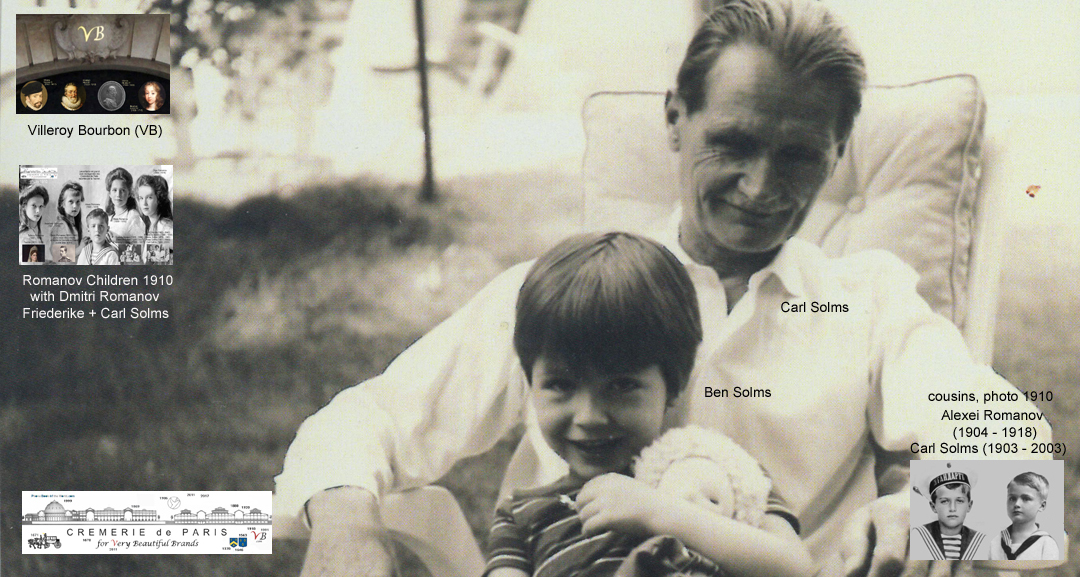 Some of the cousins survived .
The oldes one, Dmitri Romanov
became the boyfriend of Coco Chanel
What would remain from their Love Affair
is N°5 and a little jewel.

One of the youngest ones Carl Solms
the babysitter of a little boy
to whom he would give the idea
to reopen Cremerie de Paris,
closed after the departure of the Les Halles foodmarket.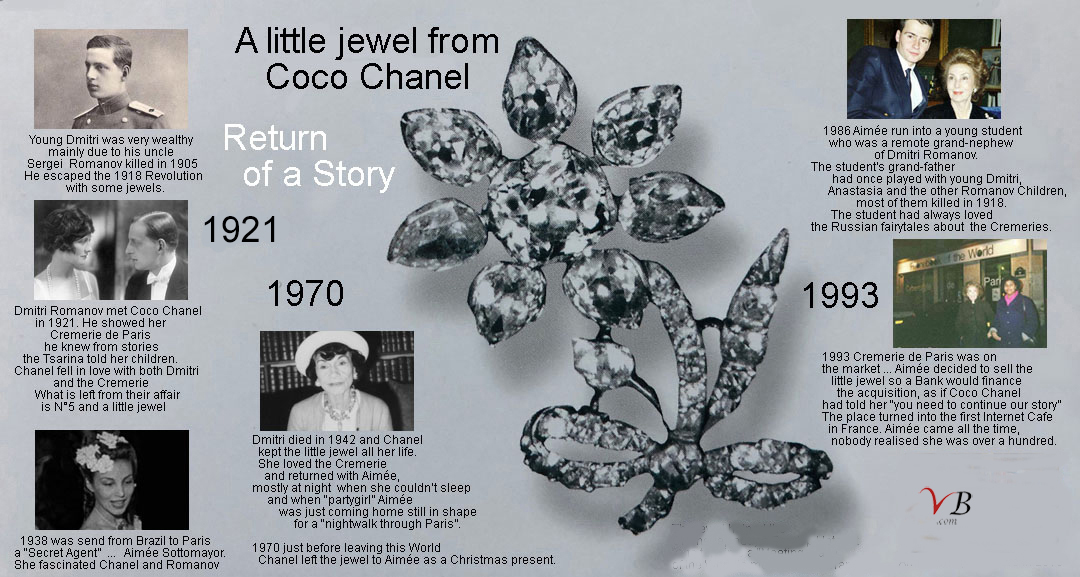 1971 Unfortunately nothing was left
from the Romanov fortunes
to finance the reopening
of Cremerie de Paris.

Exept a little bit of magic.
The magic was called Coco Chanel
and Aimee de Heeren,
a former WW2 secret service agent.

Chanel was suffering from insomania
and she had talken the habit
to walk to Cremerie de Paris
when she could not sleep.
The area of the les Halles foodmarket
used to be in full activity all night.
Sometimes she was accompanied
by her friend Aimée de Heeren,

Before leaving the world
Chanel left her the little Romanov jewel ...


1993 With the help of the jewel
it becme possible to get a real estate loan
to reopen Cremerie de Paris,
as if Chanel that had already died 22 years before
had decided that the Cremerie de Paris
story had to be continued

The place was first operating as
an avant garde Internet Cafe

This explains the existance
of a TWO LETTER DOMAIN
VB.com
acronym for Villeroy Bourbon
of for Very Beautiful.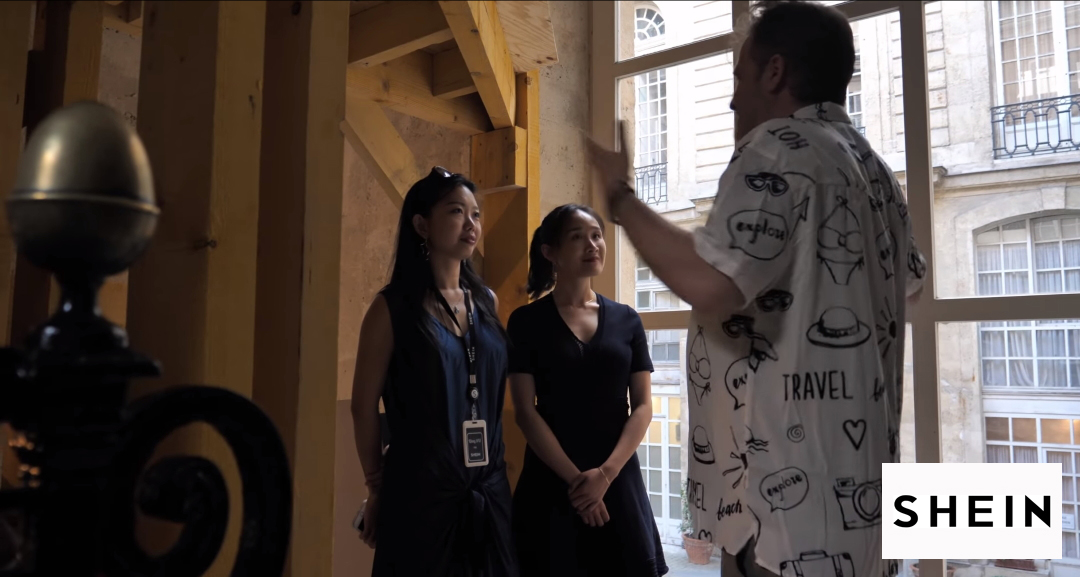 2018 Su Quin was hired by Shein with the mission
to contibute make the brand become
the World's most valuable fashion house.
She has the project to open a Pop Up Store
in Paris.
For her project Su Quin
wanted the location in Paris
with the strongest possible fashion roots.


2022 Daniel Chang,
un Chineese citizen living in Stockholm
and with some Parisan background
has the mission to organize a Euro Tour
with Pop Up Stores
in London, Paris, Barcelone, Berlin and Rome

As a child he already knew Cremerie de Paris
and he loved the beauty of the heart of the French capital
once home of his grandparents.

Thanks to Daniel Cremerie de Paris
became the Paris destination of the Euro tour.

The beauty of the Shein x Klarna Pop Up
will be quite an enhancement for the long "VB history book".





Press Articles:
Shein x Klarna Videos on Tiktok
Experience Pop Up Shein x Klarna by Eventbrite.com
Summer Oasis Pop Up Shein x Klarna by Fresh Mag Paris.com
Buzz Mode Shein inaugurates its Parisian Pop Up by Dot in Paris.com


Accès to the Shein x Klarna Pop Up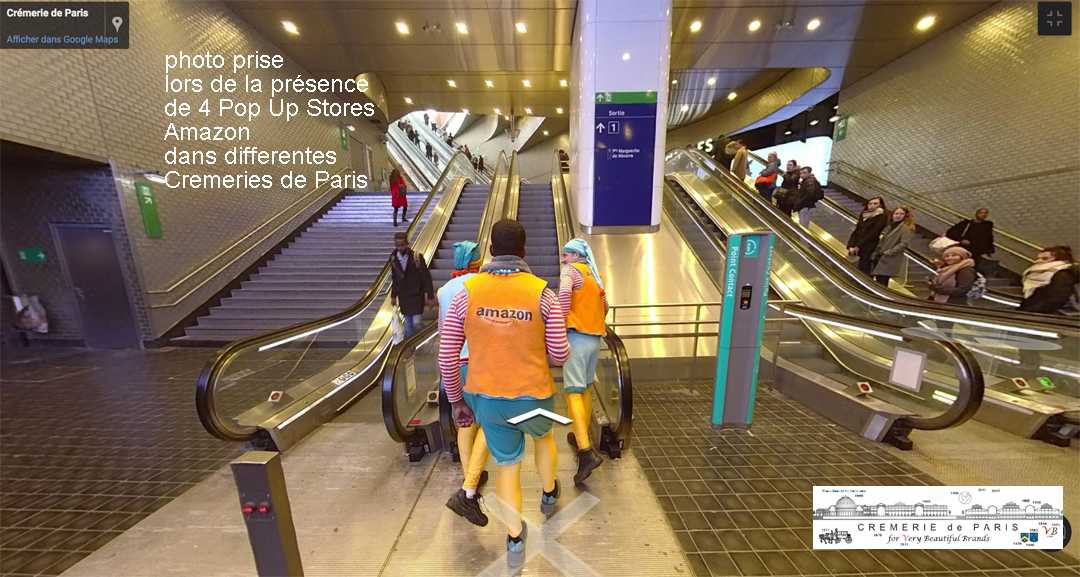 En Metro / RER



utilisez la nouvelle sortie N°1 Porte Marguerite de Navarre
de la station ChateletlesHalles.com/sortie1
En sortant du metro vous voyez immediatelement face à vous
Le Pop Up Store Shein x Klarna
se situe dans la Cremerie de Paris N°1
face à la sortie du Metro


-
RER B
liaison directe
avec les aeroports
Roissy CDG
(30 min - prendre un train sans arrèt)
Orly
(30 min RER B et Orlyval) et Gare du Nord (4 min).
-
Metro 4
connexion directe
avec la Gare de l'Est (15 min) et la Gare Montparnasse (19 min)
-
Metro 14
connexion directe
avec la Gare de Lyon (8 min) et la Gare Saint Lazare (9 min).
-
Metro 1
connexion directe
avec les Champs Elysées (15 min)
La sortie Chatelet les Halles N°1 se trouve
face
aux Cremeries de Paris,
N°1
,
N°2
,
N°6
,
N°9
,
N°18
,
N°19
Pop Up Stores
et
N°3
,
N°4
,
N°7
,
N°8
,
N°10
Pop Up Cafes.
Just Eat se trouve face à la sortie
Marguerite de Navarre
dans la Cremerie de Paris N°1 et N°3.
Marguerite est déja venue,
car c'était une amie de la famille de
Villeroy
,
anciens proprietaires de la Cremerie de Paris,
mais c'était il y a bien longtemps ...
Marguerite est considere comme la grand-mère des
Bourbons
,
le "B" du
VB.com
En
Bus
(11,24,67,69,72,74,76,81,86) arrèt rue de Rivoli / Pont Neuf
En Voiture, parking Pont Neuf face à la Samaritaine
En Scooter
il est conseille de garer les scooter dans une zone moto, pas dans une zone velo !
Shein x Klarna Pop Up Store in other cities:
Covent Garden April 8 - 10 2022
Avinguda del Portal de l'Angel 15 - 17 08002 Barcelona
Jardim 9 de Abril, 1200-736 Lisbon
Expo Impact:
The Shein x Klarna Pop Up Store
was a full succes.
The combination of the fame of the Shane brand
and the exceptional location of Cremerie de Paris N°1
right between the main Paris metro exit
and attractions
like the Luxury Department Store Samaritaine
or the Louvre Museum
poored visitors into the store.
During the entire 3 weeks
between 1.200 and 2.800 people came by
every day mixing Shein fashionistas
with tourists and Samaritaine Luxury shoppers.
Global Post Expo Impact:
2022
... The presence of Shein x Klarna
at Cremerie de Paris was only for 3 weeks .
Construction started Manday 2022 June 20 at 8 am,
Disassembly was Thuesday 2022 July 12.
But the presence of JShein x Klarna
will last through time
.
The event will continue to be seen
around the globe ...
as Cremerie de Paris
has something unique.
not even a 10.000 m2 venue
on Champs Elysees or on 5th Avenue has.
It's not only a question square meters.

Cremerie de Paris is
a historic location
with a very long history.
Over 650 year
since 1370
connecetd to many
Kings of France
inventors, tech pioneers, designers and products
.
Not everybody is interested in history,
but the Cremerie de Paris history
has a direct link
to the
global presence
of the Shein x Klarna event
through time ...
Back in
1671
Cremerie de Paris / the VB mansion
was the place where some pioneers
created the Royal French Postal Services.
The Postal Service ended in 1738
but Telecom returned in 1986
resulting in today's
Phone Book of the World


Videos of the Shein x Klarna event
will be on multiple pages
of Phone Book of the World.

Coming from Sweden
Klarna is also
on the homepage of Phone Book of Sweden

Coming from China
Shein is also
on the homepage du Phone Book of China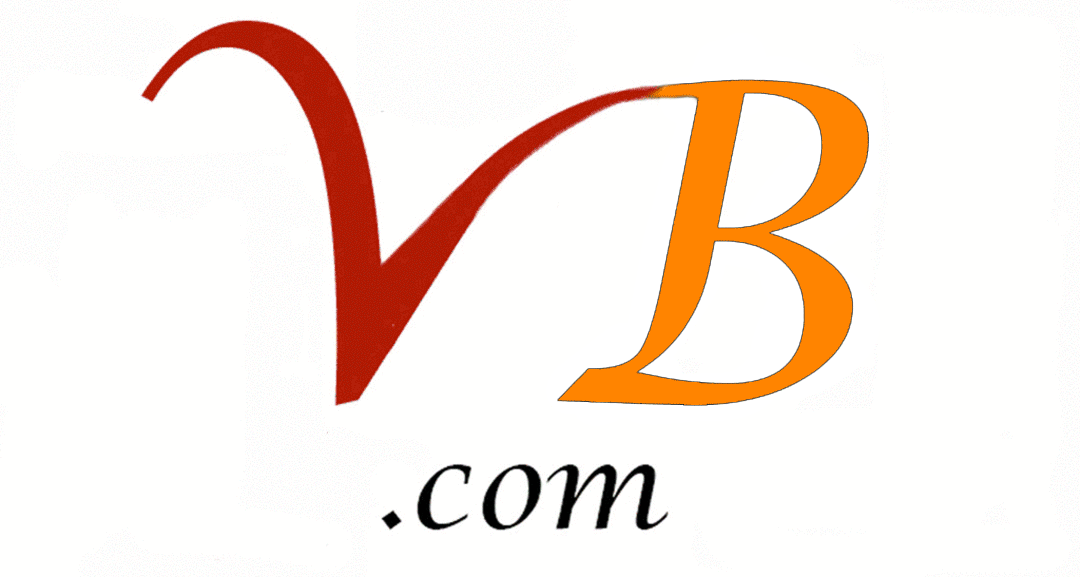 Part of the long long Telecom history
is also part
a Two Letter Domain,
one of the shortest adresses of the web
VB.com
, acronym for Very Beautiful
ou de Villeroy Bourbon.
There are only 676 Two Letter Domains
mainly based in the USA or in Chine.
Only two "Two Letters"
are in France, one in Paris.
VB.com is also the one and only Two Letter domain
in the hands of a Museum / Pop Up Store.
Shein
is already there
Klarna will be added shortly ...