Like this page on FB.com / Facebook:
Sony Playstation Pop Up Store
Restaurant Horizon Forbidden West



---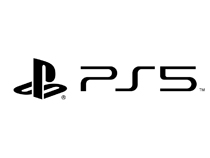 Playstation.com
Sony.com
Instagram @playstationfr
Instagram @cremeriedeparis
FB.com / Facebook
Youtube
Phone Book of the World Expos
VB.com


Sony PlayStation Pop Up Restaurant at Cremerie de Paris N°9
thursday February 9 to saturday february 11 2023


Pop Up Restaurant
restaurant menue coming soon





Creative people behind the Sony Playstation
Pop Up Restaurant: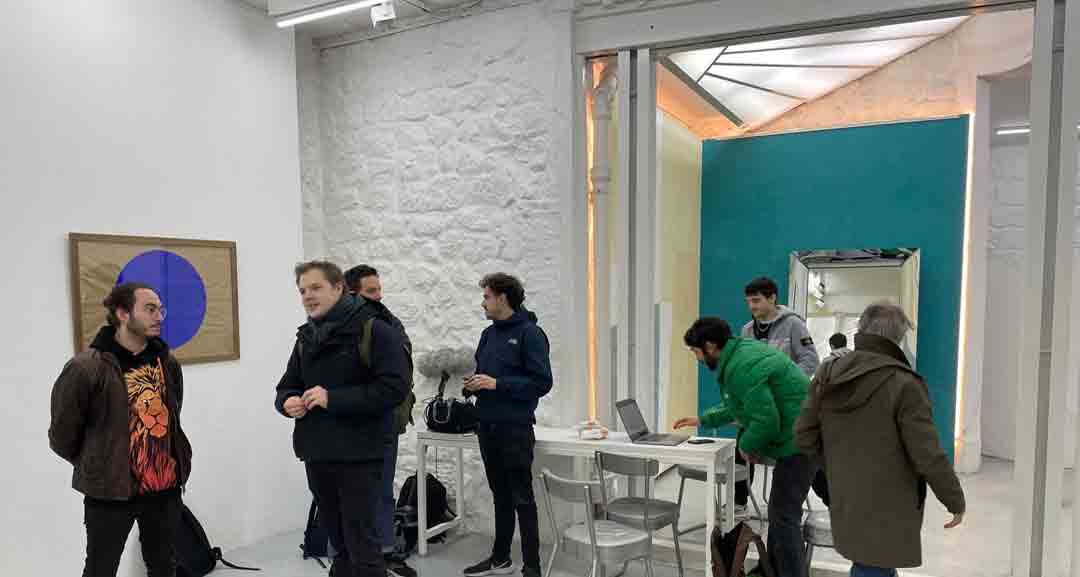 Le Pop Up Restaurant
was created by Camille Martinez, Julie Thomas,
Remi Vincent, Louis Govindin, Clement Praslin Niviere (directeurs de création)
Baptiste Deroche, Wale Gbadamosi-Oyekanmi,
from the advertsing agency Media Monks
and Anaîs Bigot
above picture taken 2023 february 2 during the 3rd preparation visit.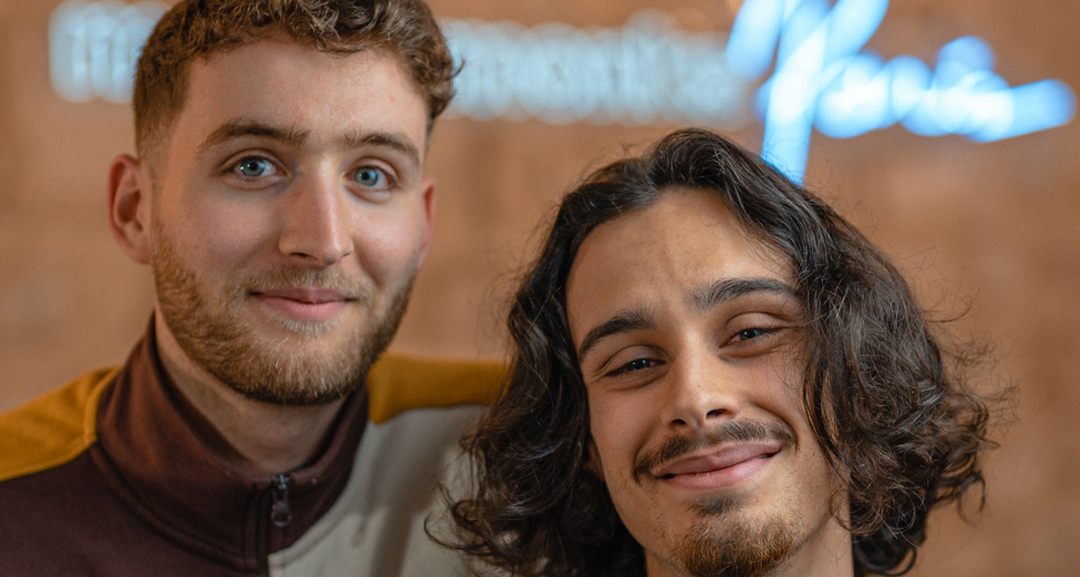 Remi Vincent et Louis Govindin, art directors of the project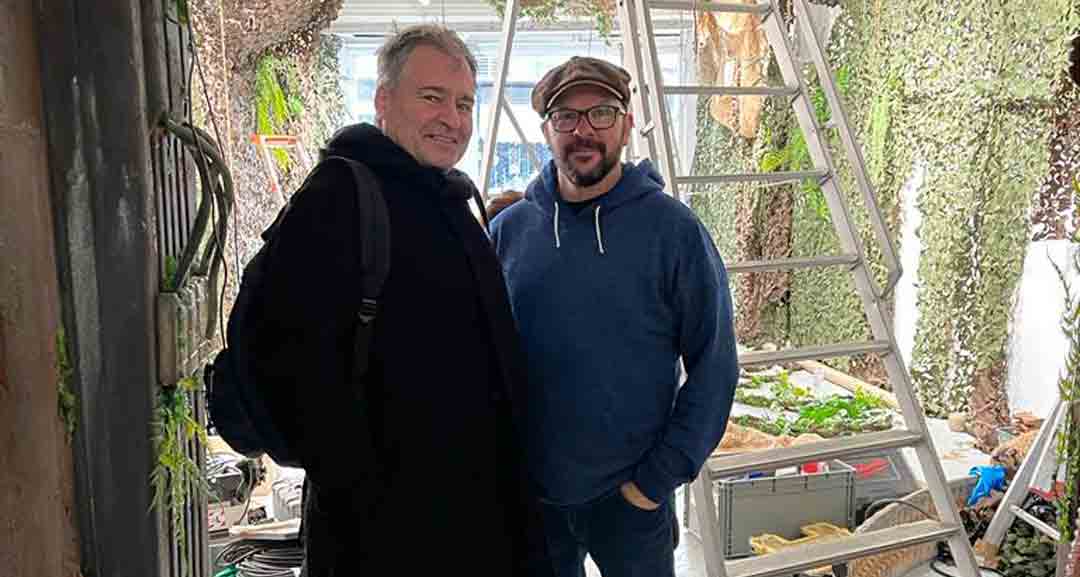 Ben Solms and Nils Rousset décorater of the Sony Pop Up Restaurant
To the decoration have contributed Nils Rousset, Elody Grimal
and Kevin Delefosse from the Atelier Nils Rousset
They have alreday created Pop Up Netflix Arcane and Pop Up Amazon
mainly based at Cremerie de Paris N°1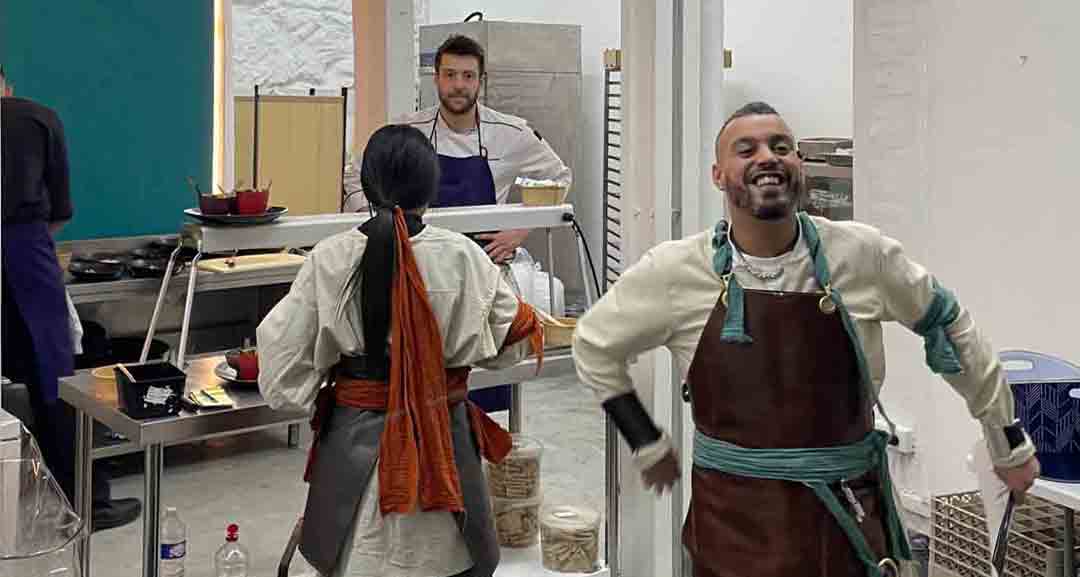 The chef of the Sony Horizon Restaurant
were Clément Mariat, Simon Gras et Kazi Shameem

A timelapse Video was made by Rémi Delghust (cadreur monteur)
and Antoine Verpoort (video time lapse)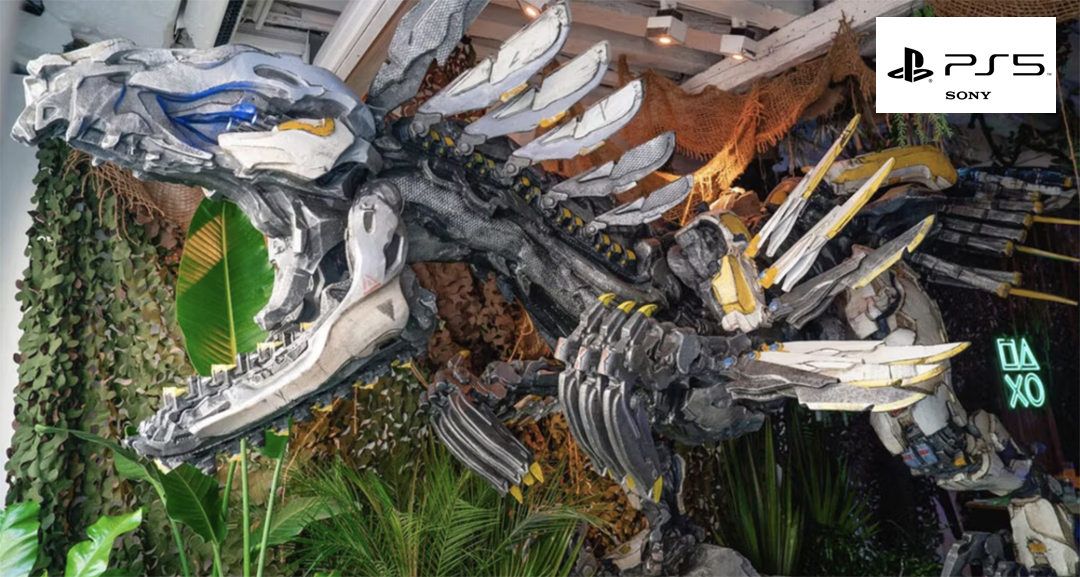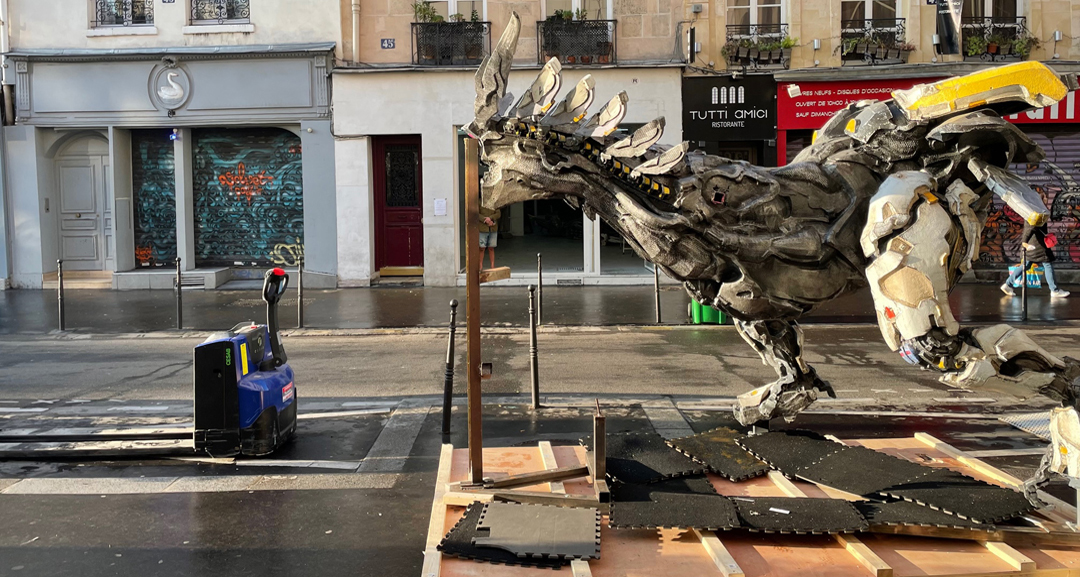 Dinosaure imagined by Guillaume Deman (agency Amplify)
The assembly and the departure of the dinosar was handled by Ludovic Lopes


Cremerie de Paris N°9 in 3D

3D Visit Pop Up Horizon Restaurant Sony Playstation
please click on the image to walk through the Pop Up
see in a seperate window ... VB.com/sony/visit


Cremerie de Paris N°9 empty
see in a seperate window VB.com/no9/visit


Videos made at Cremerie de Paris


2:30 min Pop Up Restaurant Horizon Sony at Cremerie de Paris N°9 (2023)


1:05 min On ouvre un Restaurant Horizon unique à Paris (2023)
Video with Maxime Biaggi


8:52 min Interview with Camille Martinez who organised the Playstation Pop Up (2023)


Acces to the Sony Playstation Pop Up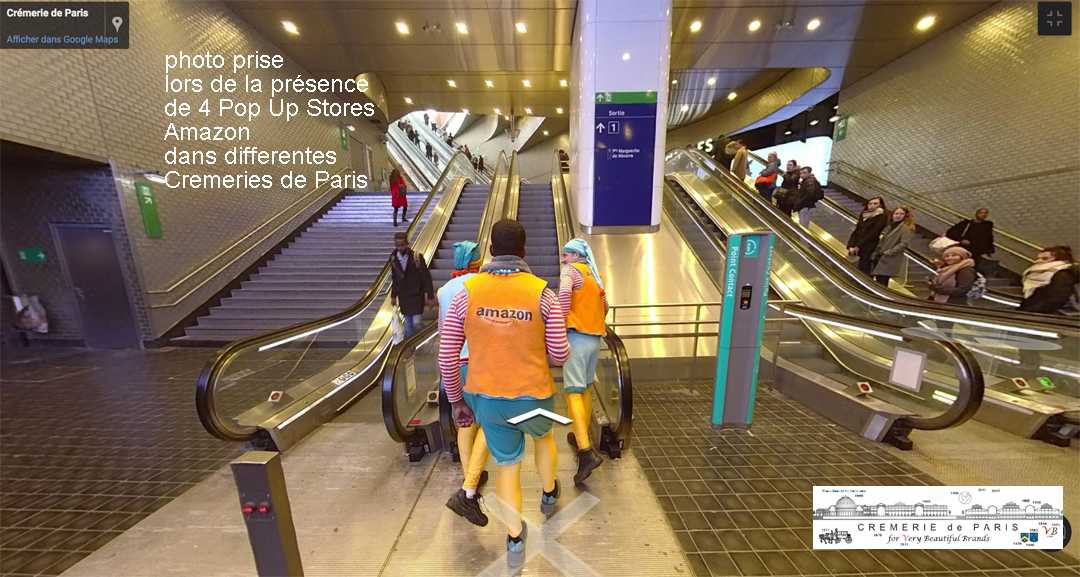 En Metro / RER



use the new exit / sortie N°1 Porte Marguerite de Navarre
of the subway ChateletlesHalles.com/sortie1
Getting out of the metro you will see the
Playstation Pop Up Store
located at Cremerie de Paris N°9



- RER B direct connection
with Roissy CDG (30 min - only take a much faster non stop direct train)
Orly (30 min RER B + Orlyval) and Gare du Nord (4 min).
- Metro 4 direct connection
with Gare de l'Est (15 min) and Gare Montparnasse (19 min)
- Metro 14 direct connection
with Gare de Lyon (8 min) and Gare Saint Lazare (9 min).
- Metro 1 direct connection
with Champs Elysées (15 min)

Sortie N°1 Chatelet les Halles N°1 faces our different Cremeries de Paris,
N°1, N°2, N°6, N°9, N°18, N°19 Pop Up Stores
and N°3, N°4, N°7, N°8, N°10 Pop Up Cafes.
Sony Playstation is just behind the exit Marguerite de Navarre
at Cremerie de Paris N°9.

Marguerite has already come by,
as she was a friend of the Villeroy family
first Cremerie de Paris,
but this was a long long time ago...
Marguerite is considered to be the grandmother of the Bourbons,
the letter "B" of VB.com


By Bus (11,24,67,69,72,74,76,81,86) arrèt rue de Rivoli / Pont Neuf

By Voiture, parking Pont Neuf facing Samaritaine

By Scooter
avoid parking in a zone for bikes !




Sony Playstation Pop Up on Instagram


Post on @cremeriedeparis



post on @ateliernilsrousset


The Sony brand: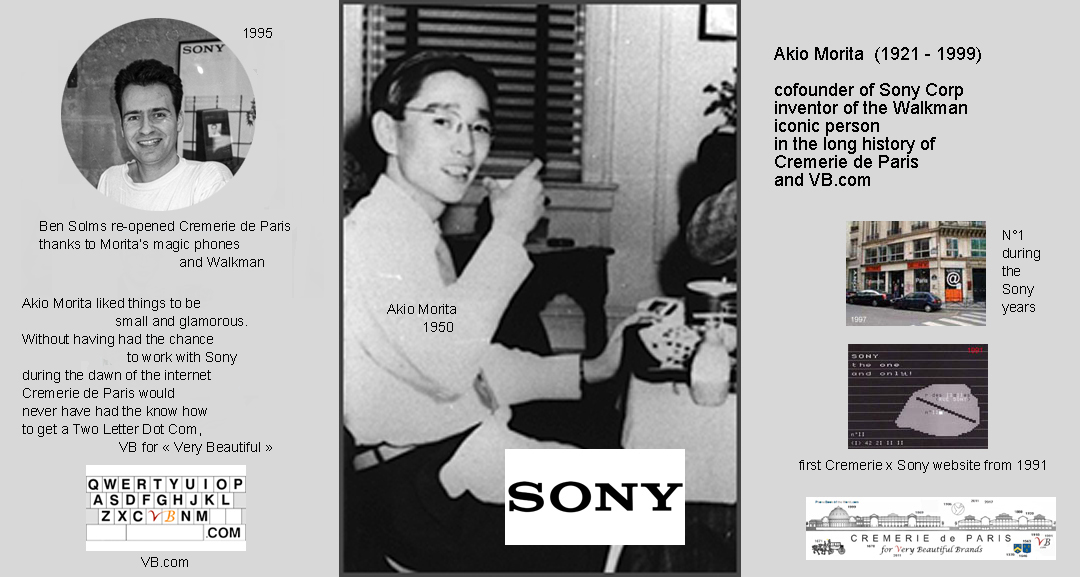 1946 Sony was founded
by Massaru Ibuka (1908 - 1992)
and Akio Morita (1921 - 1999)

1979 invention of the Walkman
1994 invention of Playstation





The Sony hisotry and timeline is on VB.com
VB.com/sony



Cremerie de Paris
a "technology hotspot"
since 1671 -
Sony helped
to reactivate it

The Cremeries de Paris
are located next to Louis Vuitton and to Samaritaine
facing Marguerite de Navarre, sortie (exit) 1
of the main métro station Chatelet les Halles,
on a traffic axis of people going to Samaritaine, Louvre
and Bourse du Commerce.

The history of Cremerie de Paris
and of VB, the Hotel de Villeroy Bourbon
is deeply rooted in technology..

Many things have happened
during a long long period of time ...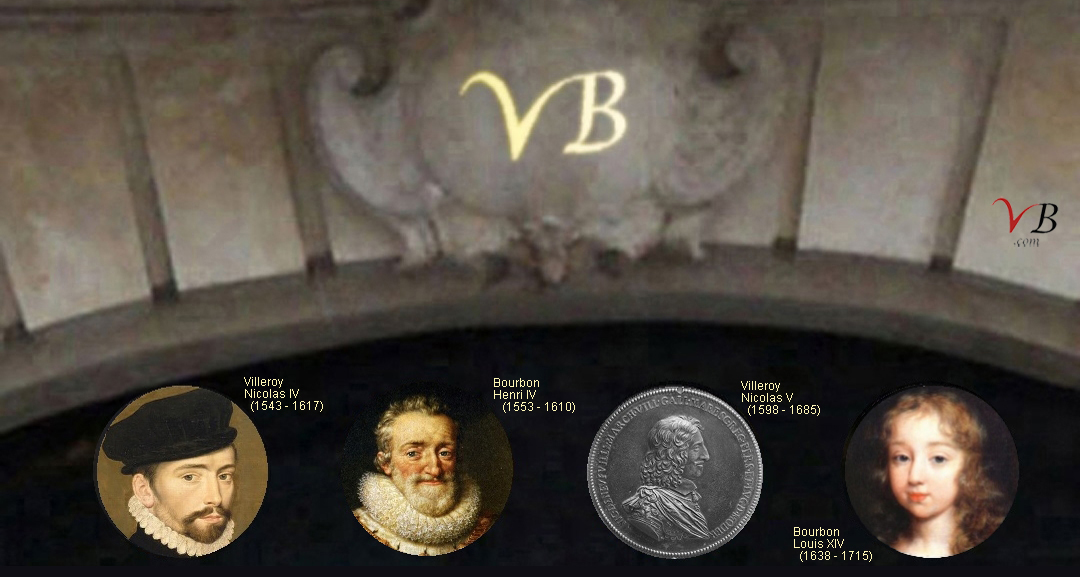 History of VB and Cremerie de Paris
goes back to the year 1370.
Over time the Villeroys,
merchants and the Paris les Halles foodmarket
and owners of the VB mansion
became advisers of the Bourbons,
the Kings of France.

Nicolas IV Neufville de Villeroy (1542 - 1617)
inherits the mansion from his ancesters.

Villeroy becomes minister
of the first Bourbon King, Henri IV (1553 - 1610)
1646 his grandson Nicolas V de Villeroy (1598 - 1685)
becomes the teacher of the 3rd Bourbon King
young Louis XIV (1638 - 1715).

Grown up the Sun King decides to build
the Versailles Palace
his childhood friends François de Villeroy and Catherine de Villeroy
are invited to live there.
The Hôtel de Villeroy Bourbon (VB),
in the family since 300 years, eis sold.


From Postal Services to Sony Phones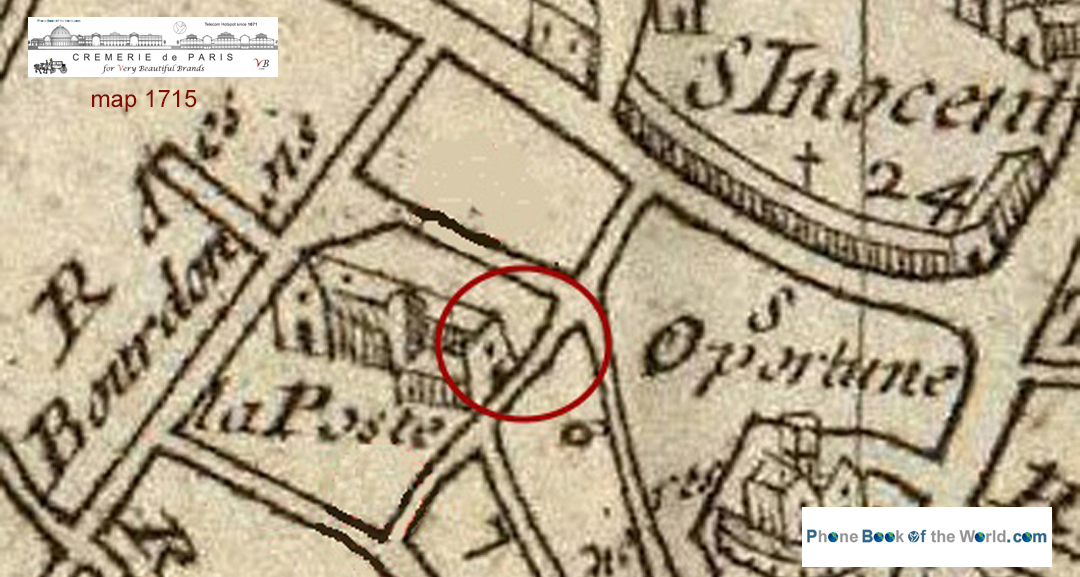 1671 january 21 beginns a new adventure.
Two entrepreneurs Leon Pajot (1625 - 1668)
and Louis Rouille (1630 - 1694) buy VB
with the idea to create "Royal French Postal Services",
a private avant-garde telecom company
at the service of the Kingdom of France.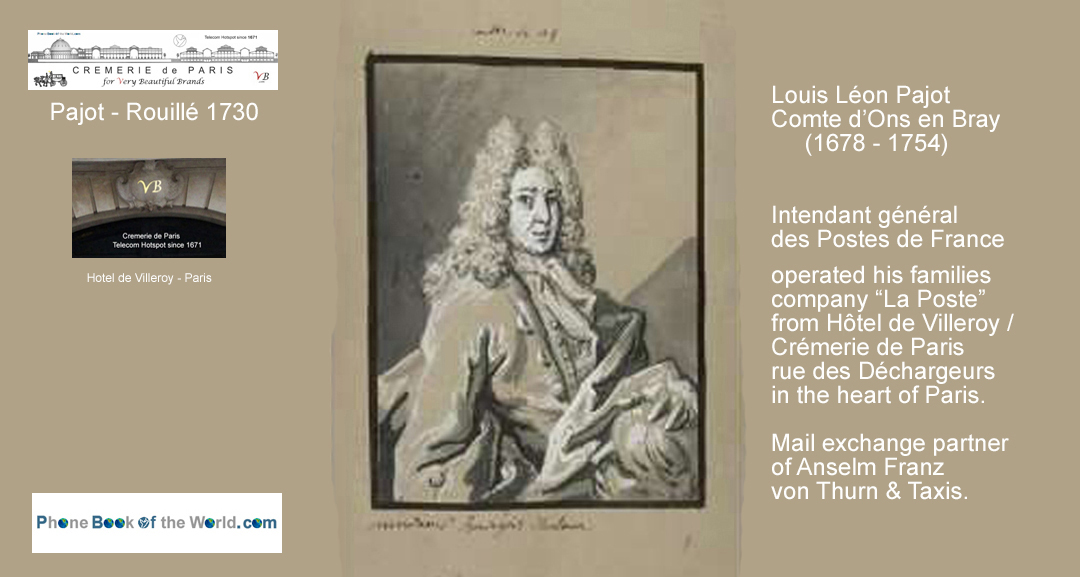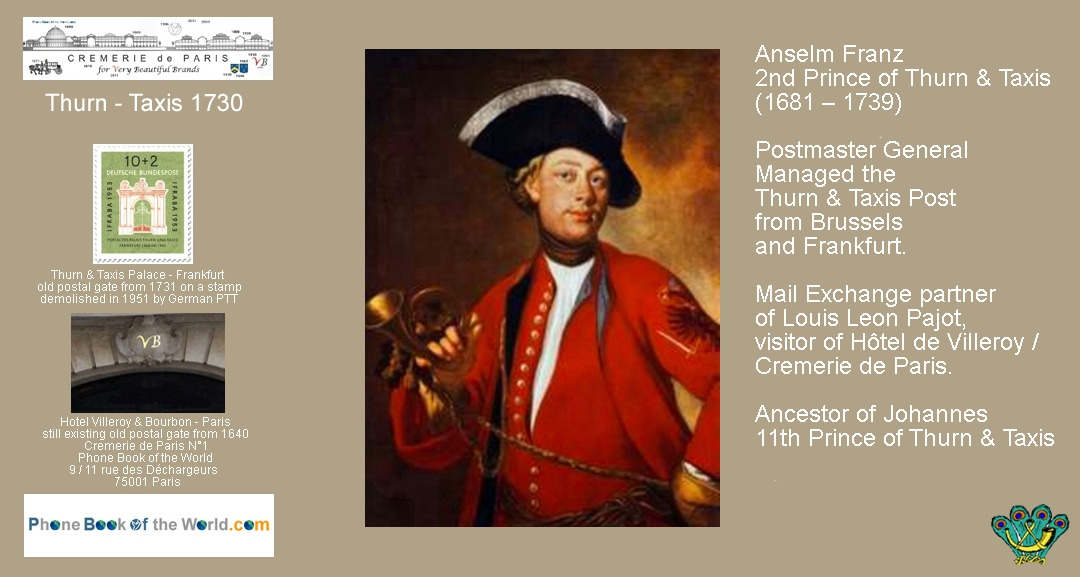 1700 Louis Leon Pajot was the common grandson
of the two business associates that had married their children.
He is the president of the Pajot & Rouillé Post in the 3rd generation.
Postmaster or Maitre des Postes in French
would be the right expression for that time.
The 900 Pajot & Rouille Poststations
cover the territories of the Bourbons, the kings of France.
Pajot & Rouillé horses carry mail to destinations as fas as Venice.

Concerning international mail
Louis Leon Pajot needed an exchange partner,
Anselm Franz, 2eme Prince de Thrun & Taxis (1681 - 1740)
at the head of the Thurn & Taxis Postal Services
Based in Brussels and Francfurt
Thurn & Taxis operate the postroutes in the Habsburg territories.

Louis XIV (1638 - 1715)
appreciated the Pajot & Rouillé Post
for their efficiency,
He knew the VB mansion that was his school
while he was a child.
Howether great grandson and successor
Louis XV (1710 - 1774)
was irritated by the growing wealth
of the Pajot & Rouillé family.

1738 may mai 21 Louis XV withdraws
the Postal license from
the Pajot & Rouillé.
End of a story.


Soon the Pajot & Rouillé post is forgotten in France
but it stays in the memory of the Thurn & Taxis.
They want to avoid that another king takes away their post empire.
The story is transmitted from one generation to another.


1867 The German chancelor Bismark nationalises
the Thurn & Taxis post,
but the state of Prussia is obliged
to make a compensation payment.
3.000.000 Thaler reinvested in real estate.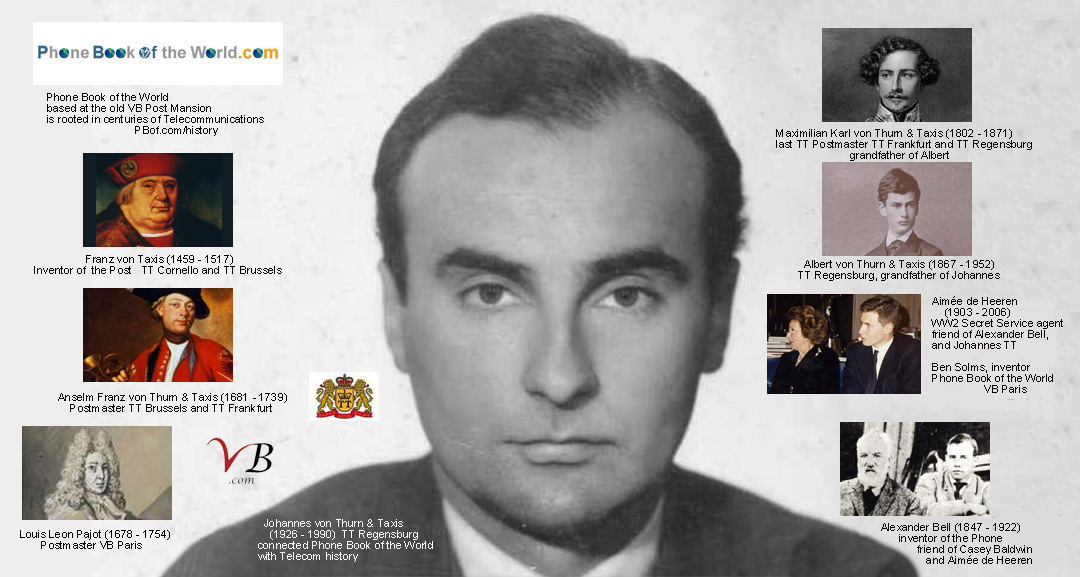 Johannes, 11th Prince of Thurn & Taxis (1926 - 1990)
has grown up with the history of his family.
He was the main heir of the 3.000.000 Thaler.

1986 Thurn & Taxis comes to Paris the Fashion Week
where he meets a young student
that works in fashion shows as a host.

Thurn & Taxis shows him
the Hotel de Villeroy Bourbon / Hotel de la Poste (VB)
where his ancesters had to come by
with their horses from Brussels
250 years earlier.

During the visit Thurn & Taxis has the impression
that "Spirit of Telecommunications"
was still in the walls of the old mansion,
the only still existion major Postal mansion.
Something needed to be done to wake it up.

Thurn & Taxis loved to meet young people
he met out of the blue.
He enjoyed boosting their careers
using a few thalers of the fortune
he had inherited from the old Postmasters
so they would make a career of their own.


Without having the time to think
the student gets the keys of a small Boutique
located right next to VB,
with the mission to find a new idea
in Telecommunications.

more on the history of the Thurn & Taxis Postmasters


Electrica for Sony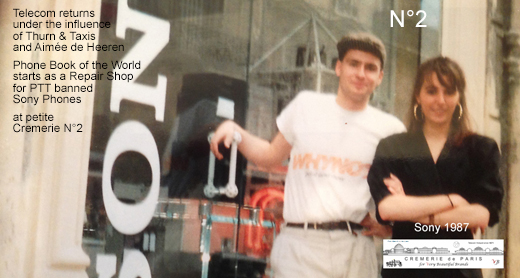 Ben Solms in front of Electrica for Sony,
the little Phone Boutique
today Cremerie de Paris N°2

When you are just 20
and someone gives you the keys
of a little Boutique in Paris
a lot of adventures are waiting for you ...


The first adventure was called
Sony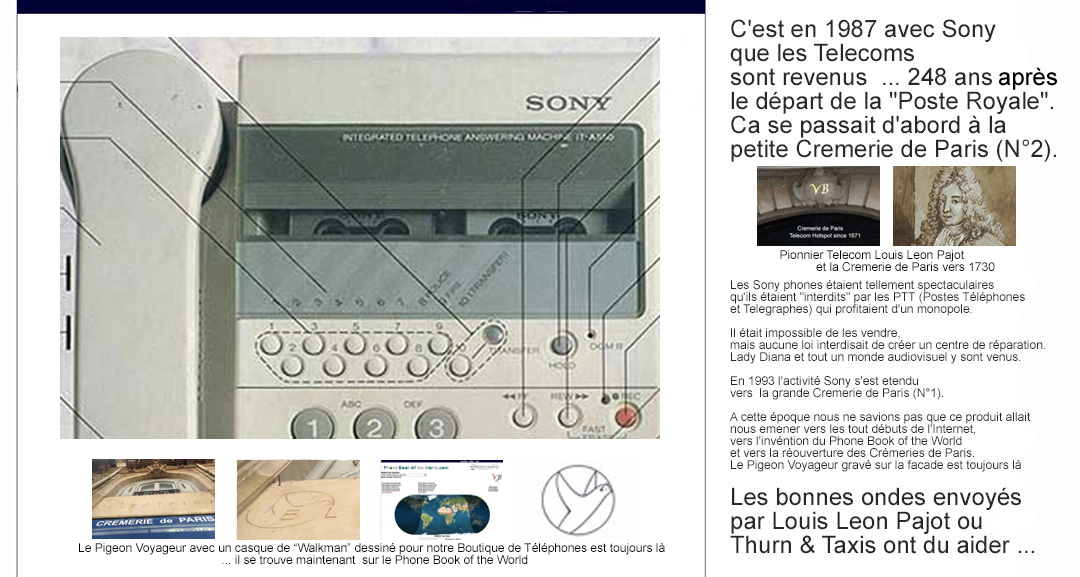 1987 The phone + answering machine IT A 550,
and codless house phones SPP 110
were the first products
of the little Boutique.

It is impossible to sell the phones in France
as PTT (Postes Telephones & Telegraphes, successor
of the above described Royal)
have a monopoly
and refuse to approve products made in Japan.

Sony phones are ten times more performant,
and a hunderd times more beautiful
than the PTT approved products.
They are a thrid of the price,
but you need to go the United States
to be able to buy them.

No law was fordidding to sell adaptors, batterie
or to servive these little Sony jewels
travelers brought back for a trip to the US.

The little Boutique attracts all kinds of Sony Lovers
mainly from an audio-visuel background:
photographers, fashion models, actors,
film producers,
Lady Diana.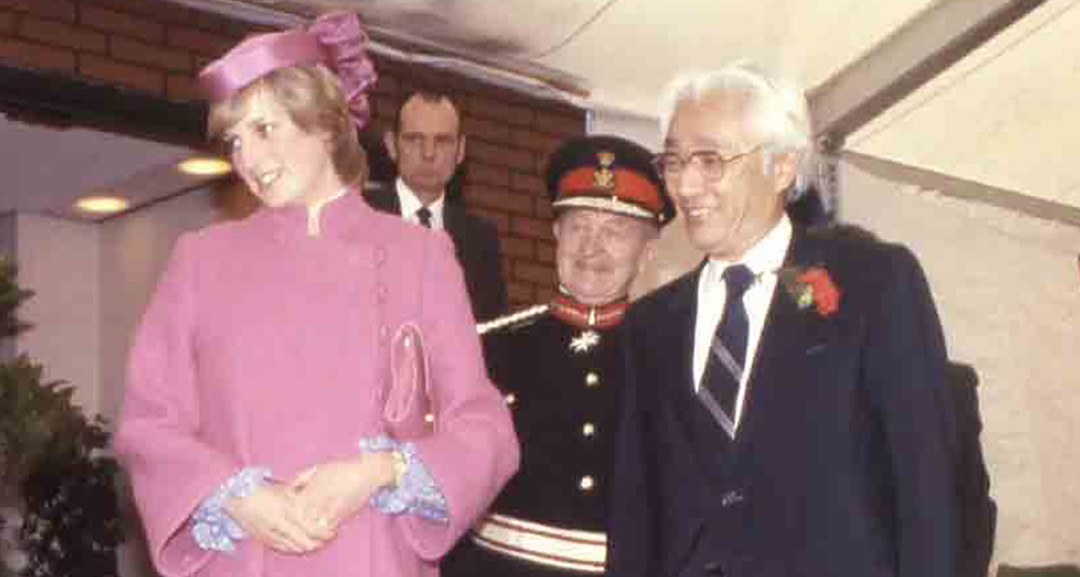 1989 By the last one Akio Morita
lhears about this little shop
called Electrica for Sony
11 rue des Halles Paris 1er +33 1 4221 1111
Everyone is still very very young.

Even though the store is really small,
Moritae thinks it has something
glamorous.
A special link is created.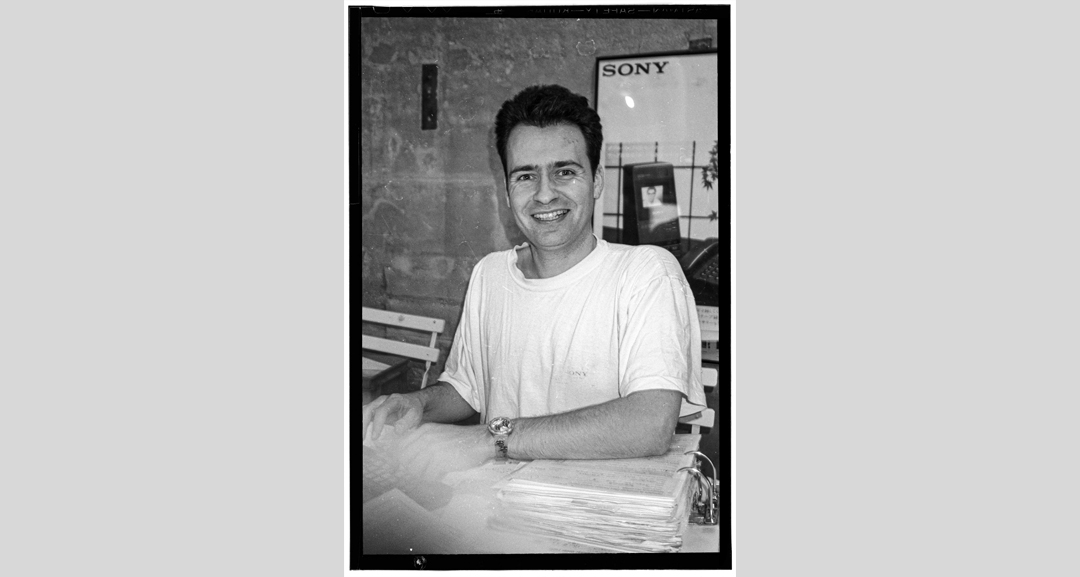 1993 the Sony phones
and a little jewel left by Coco Chanel
make it possible to get a bank loan
tio buy the legendary
Cremerie de Paris N°1
The Boutiques starts a Sony Video store
and Repair center.


1993 Akio Morita has a heart stroke after playing tennis.
This obliges to withdraw from his active life.
Cremerie de Paris loses
it's "magical connexion"
in the World of Sony.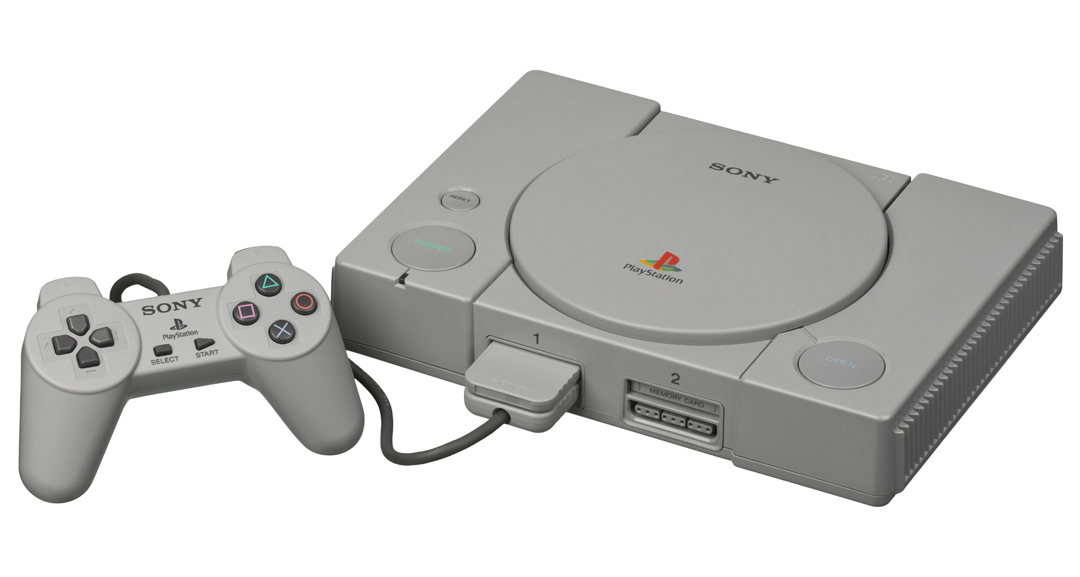 1994 dec 3 Sony launches
the first Playstation in Japan.
Ken Kutaragi is considéré to be
the "father of the Playstation".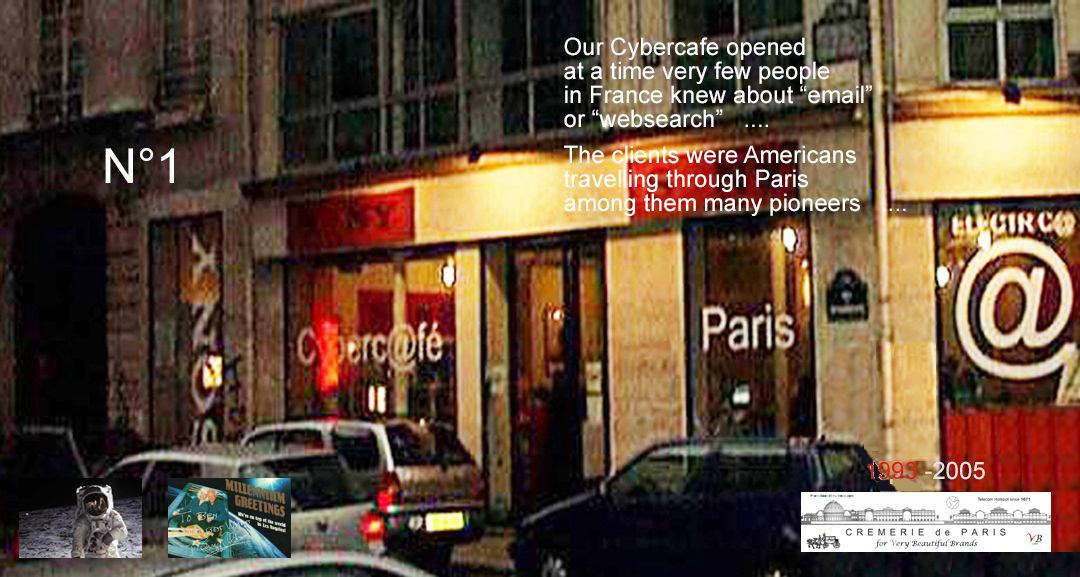 <
1995 Cremerie de Paris
opens the first Internetcafe in Paris.
The only clients are Americans
travelling through the French capital.


Parisian Hotels are not jet connected.
The one that sends the most clients is the Ritz
An original mix of clients coming with their backpack
and others with a driver from the nearby place Vendôme.


Sony turns towards Video Games
Cremerie de Paris invents telecom related websites.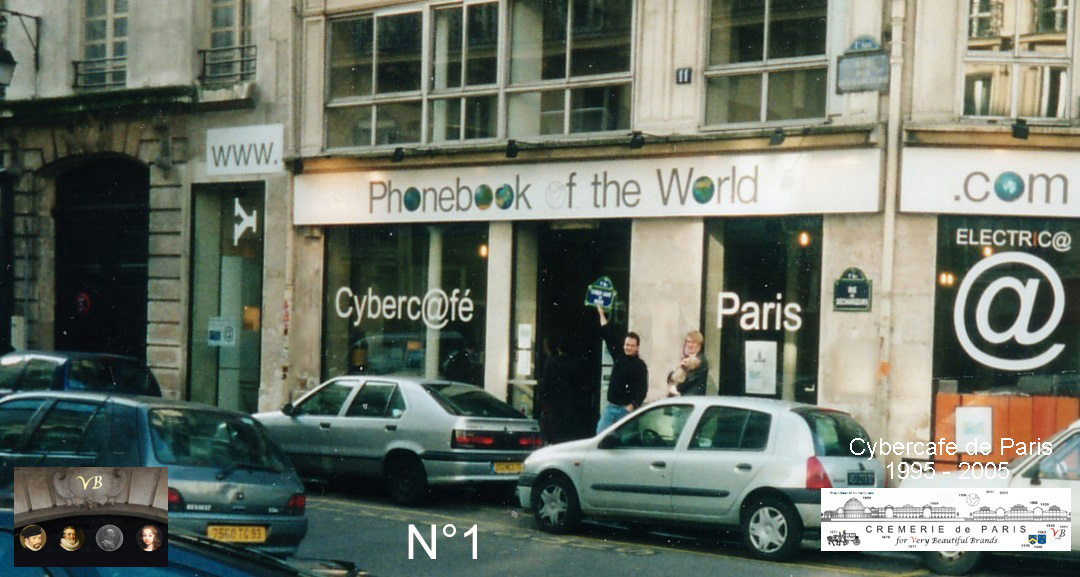 1999 Phone Book of the World
invented at Cremerie de Paris
during the Internetcafe years

2005 Internet has become accessible everywhere in France,
The internetcafe closes.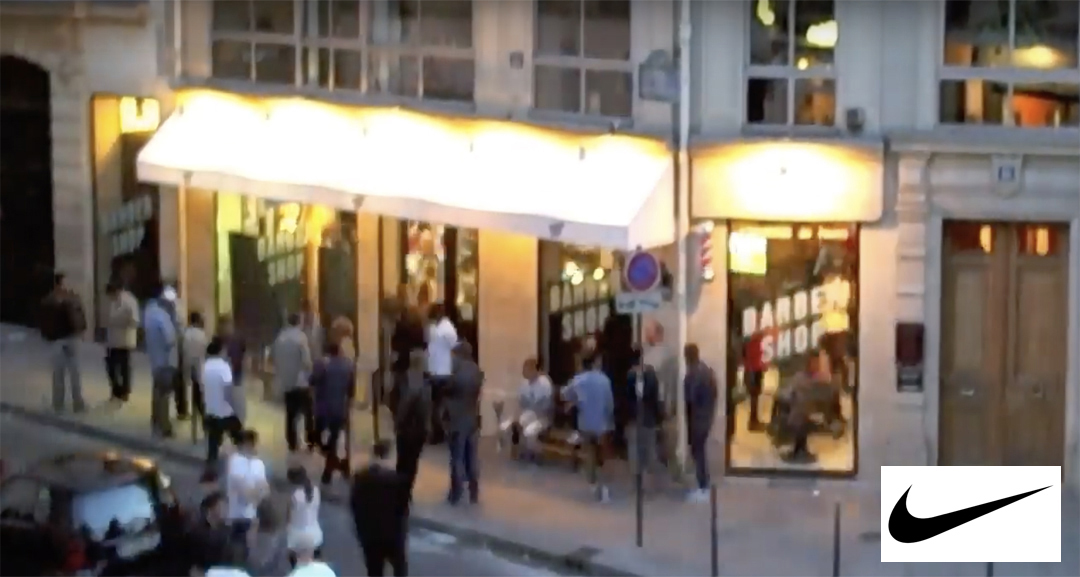 2012 siw years later Cremerie de Paris
wakes up again.
A client from the Cybercafe years
that has been on the first flight to the moon
and the aura left from the Sony years
help to get the first major brand
openins a Nike Barbershop

2013 à 2018 Cremerie de Paris
has to face a major difficulty,
construction of the citys most prominent subway exit
Marguerite de Navarre
Located right in between the different Cremeries
construction lasts for over 6 years.

It seams impossible to survive such a handicap
but the magic of our long long history, including Sony
is stronger than the nuisance of construction jackhammers.
The glamour of Akio Morita
attracts the most famous brands from Japan:
Casio, Pokemon or Konami.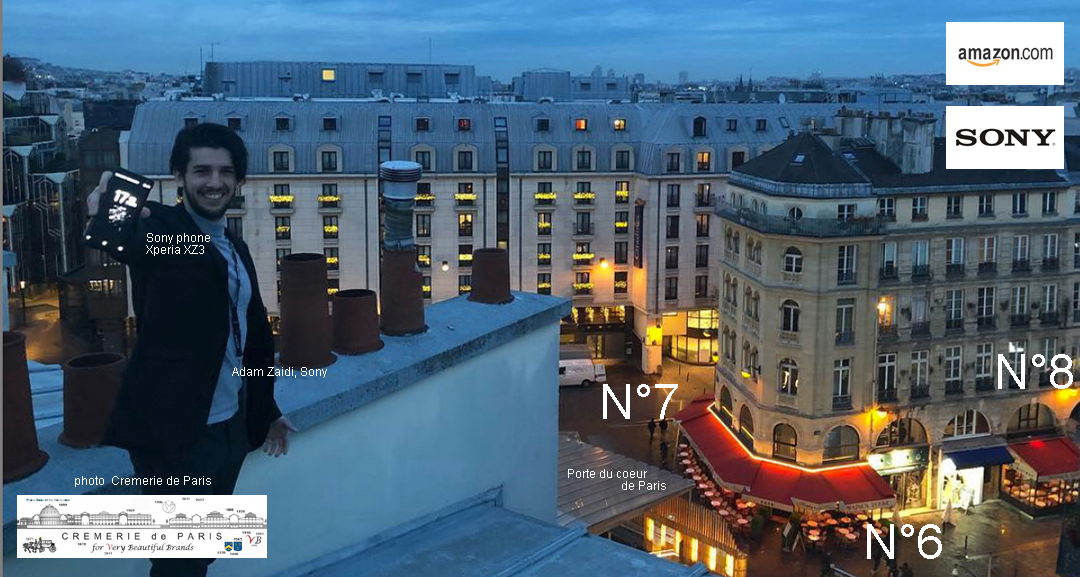 2018 Sony returned for a few days participating
in the first Amazon Pop Up Store organised by Julie Joie.
The picture shows Adam Zaidi from Sony with a view
on Cremerie de Paris N°6, N°7, N°8 and the subway exit
Marguerite de Navarre.

2019 Cremerie de Paris N°9
is added to the other Cremeries
all located next to each other.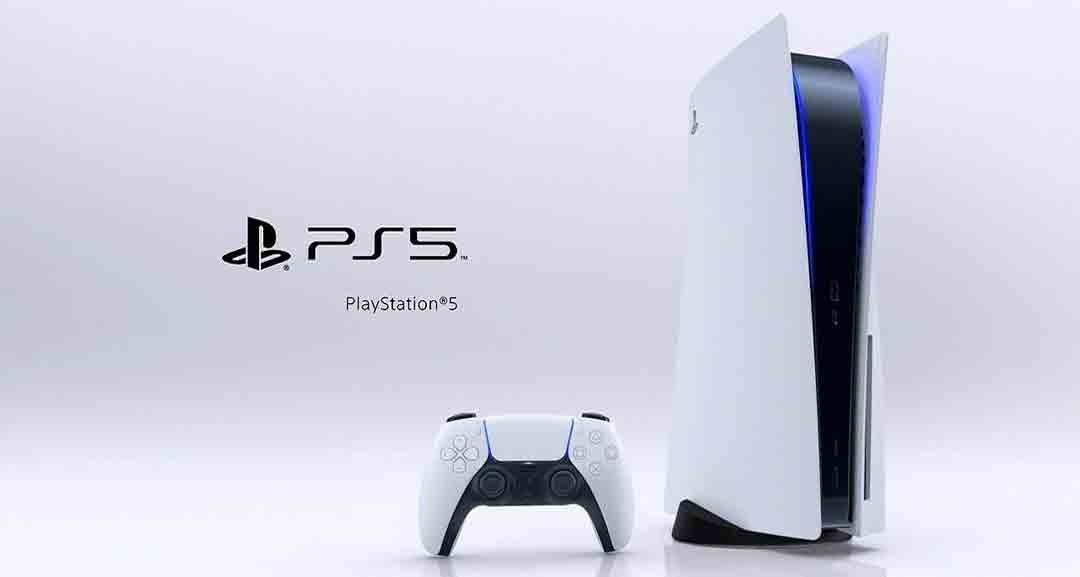 2020 Sony launched Playstation 5 / PS5

2023 Sony returned to Cremerie de Paris
with an extraordinary
PlayStation Pop Up Restaurant
organised with the help of the ad agency Media Monks Paris

more of the histoiry of Sony
mre on the hi-tech history of Cremerie de Paris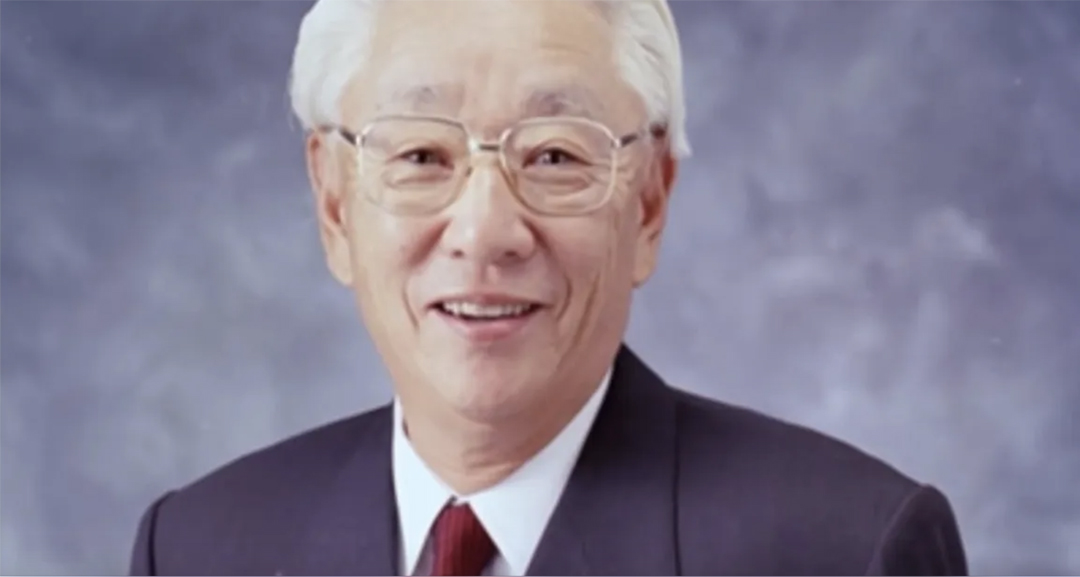 Akio Morita (1921 - 1999)
was a merketing genius
and a great techer.
Without a certain savoir-faire we got from him
we would never have been able
to tunr our Cremeries de Paris
into a "Meeting Place of the World's most famous Brands".

more on Akio Morita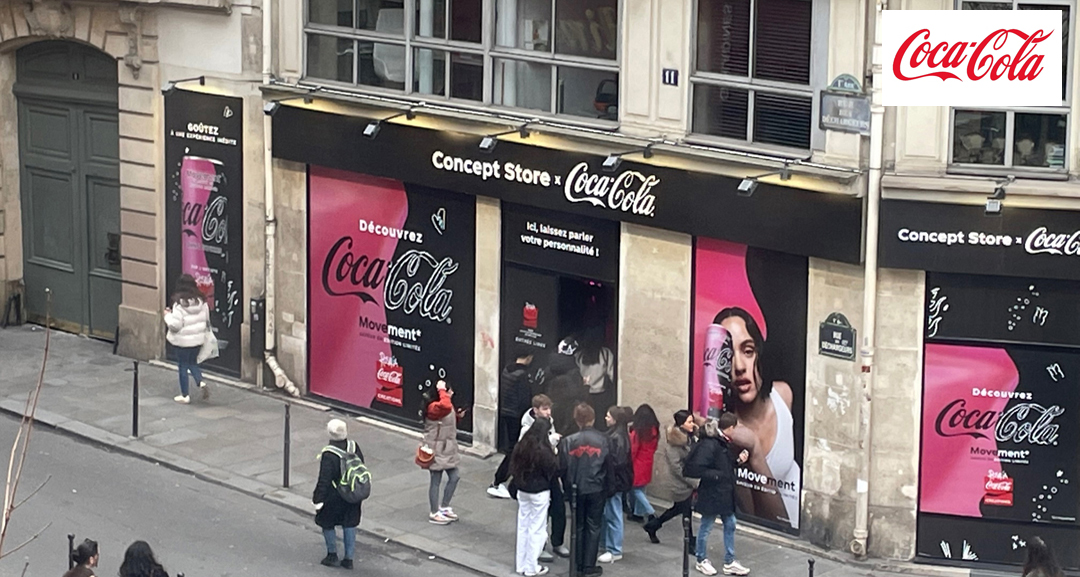 At the time of the Sony Playstation Pop Up Restaurant
we had at our
Cremerie de Paris N°1
a Pop Up Store for Coca Cola.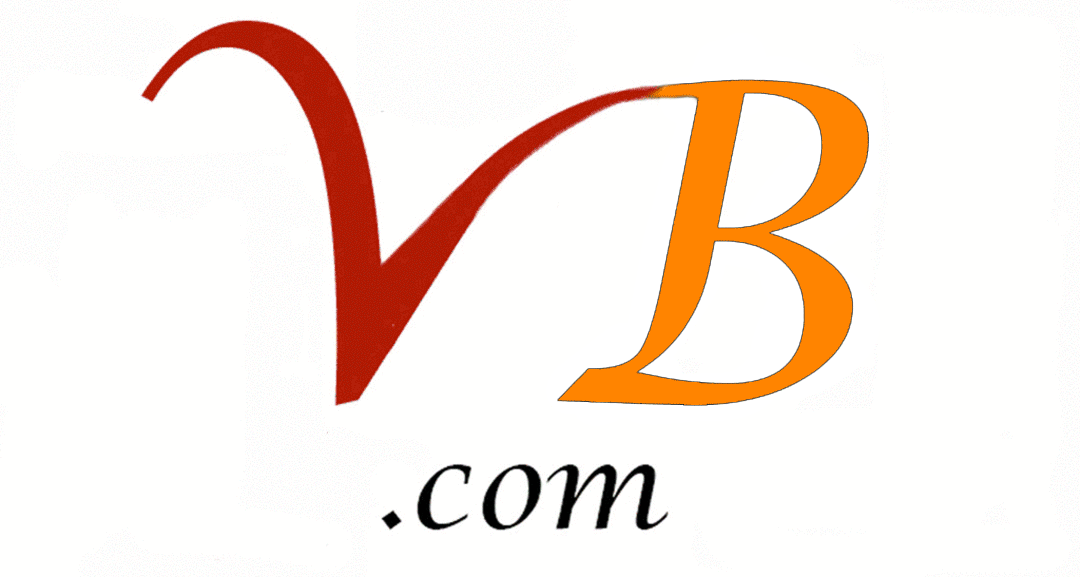 Morita liked to make his products
as small as possible.
His influence might have contributed
that today Cremerie de Paris
has one of the web's shortest adresses.
Our Two Letter Domain VB.com

A few years later the inventer
of the domain system
came to our Internetcafe
which might also have helped.

Today the 676 (26 x 26 = 676) Two Letter Domains
are based in the large Cities of the US and China.
Only one is based in Paris ...

Have a look at your keybord
The Sony PlayStation Pop Up is right there ...






Press Articles:




The Sony Playstation Pop Up Store
on the Indonesian White Pages, White Pages.id

for the time of the Pop Up ...
Sony PlayStation on the homepage of Phone Book of the World / PBof.com

Playstation s'offre une campagne grandeur nature by Strategies
Restaurant Post Apocalyptique by Nomadeurbain
Mammoth PS5 Marketing by Pushsquare
Playstation ouvre à Paris un Restaurant au décor post-apocalyptique bt GQ
Sony Playstation crée Restaurant Ephémère by CB News
Playstation ouvre l Horizon Restaurant par Air of Melty
Horizon Forbidden West themed Cafe Paris by The Gamer (anglais)
Premier Restaurant Ephemere immersif par Spiritgamer
Notre Test du restaurant PS5 par Sortir à Paris



Global Post Expo Impact:


2023 ... Unliike our Sony years that lasted 13 years
The presence of Sony Playstation
at Cremerie de Paris was for a very short time only


But besides the many influencer posts
and press articles the
Sony Restaurant
becomes part of a history


Cremerie de Paris is
a historic location
with a very long history.
Over 650 year
since 1370
connected to many
Kings of France
inventors, tech pioneers, designers and products.

The event
iwill remain in the
Phone Book of the World






The Sony Playsstation Pop Up is
on the homepage of Phone Book of Japan